Past Issues

2009

September 2009

Upcoming Events
Stats:
| | | |
| --- | --- | --- |
| | Today | 1560 |
| | Yesterday | 15633 |
| | This week | 95497 |
| | Last week | 104689 |
| | This month | 124383 |
| | Last month | 525612 |
| | All days | 29057828 |
---
We have: 194 guests, 1 bots online
Your IP: 18.206.13.203
,
Today: Dec 09, 2023
Upcoming Events
---
2009 Inland Empire Coral Farmers Market
First Annual Fall Event - September 6, 2009
This 2009 Coral Farmers MarketSM sanctioned event is the first annual event run by the Inland Empire Coral Farmers MarketSM company. This one day event is held within the Inland Empire of Southern California (San Bernardino and Riverside Counties). Up to 40 coral farming and exhibiting vendors will be selling or displaying their captive-grown, cultured corals or reef-related products to the public. We expect at least 250 total attendees for our first event. Some of the best coral farming vendors from Los Angeles, Orange County, Inland Empire, San Diego, High Deserts, Sacramento, Central Coast, Bay Area, Utah, Nevada and Arizona will be setting up coral displays. Farmers include aquarists, retail reef shops, online coral shops and full-scale coral farming enterprises. There will also be exhibitors present who will be demonstrating and selling their products. This IE-CFM event will also feature coral auctions, raffles and door prizes throughout the day. Reef aquarists new to the captive reef market can also expect to see a fine collection of easy to keep beginner corals. Aquarists and enthusiasts can attend this one-day event by purchasing a Inland Empire Coral Farmers MarketSM day ticket online for ($25). Tickets will also be sold at the door ($30) during the day of the event, but may be limited by occupancy restrictions. We are also encouraging our farmers to bring plently of farmed soft corals along with their exotic farmed stony corals. In 2009 this event is being held within the same hotel and ballroom where the 2009 SouthWestern Coral Farmers MarketSM March 1st event occurred.

If you have any questions concerning this event please contact us at: This e-mail address is being protected from spambots. You need JavaScript enabled to view it
When: 10:30 AM to 4 PM
Where: Hilton Ontario Airport Hotel
700 North Haven Avenue
Ontario, California 91764
---
CORA All Ohio Frag Swap - September 12, 2009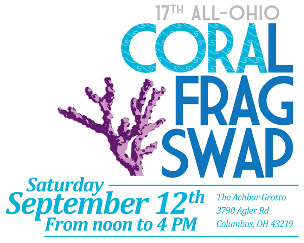 The CORA All Ohio Frag Swap is back at the Grotto!!
- More Than Double the space of last year's swap
- HUGE parking lot
- Plenty of electric (See note).
- "Early bird" hobbyist space (allows 1/2 table guaranteed space and setup 1 hours prior to event)
- Periodic Raffle (we will have multiple items to be raffled off at multiple specific times during the day)
- Food and Refreshments.
- Watch for more information to come about vendors and raffle items.

WHEN: September 12th, noon to 4pm

WHERE: The Achbar Grotto, Columbus Ohio website. Click here for the map.
(This is where we have had the swap in year's past)

ENTRY FEES:
- Vendors-$50 (8 foot table), plus a $25 club donation item.
- Early Bird Setup 4' space - $20 (members) $25 (non members)
- Contact a CORA BOD member on www.corareef.org to purchase table space
- General entry - $5 (non members), FREE to CORA members (1 free entry per membership)

There will be 1/3 table space available on a first-come/first-served basis once doors open for those wishing to sell but not pay for a reserved space (no electric available for these spaces). You will be limited to 1/3 of a table only. If you need more space, you will need to purchase 'early bird' table space.

We have had close to 400 attendees in year's past and hope that you will help us match or exceed that number this year. Start fragging now. We look forward to seeing you in September!

Note: (swappers/vendors, per 4 foot space, you will be limited to 250 watts of light, a pump/filter and 1 heater (may have a second heater for vendors and early bird setup, just to warm the water initially but it must be removed before the event start time)-NO EXCEPTIONS-if you exceed the lighting limit you will be asked to turn the light off and you will forfeit any registration fee.
---
MACNA XXI - September 25-27, 2009
The 21st Marine & Aquarium Conference of North America (MACNA XXI) has been announced! Your destination city for this industry leading event is Atlantic City, New Jersey. This must-attend event will be held September 25-27, 2009.
Join us for a weekend near the beautiful beaches of Atlantic City where the excitement never stops. September and New Jersey beaches are a winning combination. The weather is still warm and the water temperatures are perfect. If beaches aren't your thing, there is plenty of shopping, casinos, energizing spas, shows and concerts, endless nightlife, fine dining, boardwalk, golf, attractions, fishing and water sports to keep you well entertained for the entire week after the show.
Speakers:

Jake Adams
Chris Brightwell
Anthony Calfo
John Coppolino
Justin Credabel
J. Charles Delbeek
Jose Dieck
Scott Fellman
Ken Feldman
Bob Fenner
Lindsey Kayal
Jim Grassinger
Kelly Jedlicki
Sanjay Joshi

Chris Jury
Kevin Kohen
Marc Levenson
Scott W. Michael
Frank Marini Ph.D.
Julian Sprung
Martin Moe
Steven Pro
Randy Reed
Rich Ross
Marc Tetreault
Matthew Wittenrich
Joe Yaiullo
MACNA is the oldest and largest marine aquarium conference in the U.S. and has been bringing together vendors, manufacturers, hobbyists, researchers and educators since 1988. It is an excellent opportunity to expand your horizons, see new product launches before they hit the market, and learn from some of the greatest speakers in the industry. If you'd like to attend, register here.
---
Third Annual BNARC Frag Fest
and DIY Workshop - October 10, 2009
Location: Holiday Inn
3202 EAST EMPIRE STREET
Bloomington IL 61704
309-662-4700

Our frag swap is intended to promote the propagation and sharing of corals within the reefing community, so come enjoy a day of frag trading and saltwater education in Central Illinois. Used equipment can also be bought and sold at this event. The cost is $5 - Which includes TWO FREE RAFFLE TICKETS (BNARC Members and Children under 12 Free!) Non-members may use their entry fee towards an annual BNARC membership!

11:00 Frag Swap Starts
12:00-12:20 DIY Session 1
1:00-1:30 DIY Session 2
2:00-2:30 DIY Session 3
3:00-4:00 Raffle and Final Buys

Stations will be available for YOU to try your hand at drilling glass...

Raffle

There are THOUSANDS of dollars in raffle prizes, graciously donated by over 20 sponsors. The list keeps growing every day, so check back. Please check out the sponsors page and don't forget to look at the list of prizes on our frag fest page.

Sellers

Fees:
$20 table - $12 1/2 table - member - non vender
$25 table - $15 1/2 table - non member - non vendor
$50 table - vendors (vendors are considered any seller with a physical storefront)

Whole tables are 6 ft in length
1/2's will be 4 ft of an 8 ft table

Note: Admission included with table purchase and selling used equipment requires a table.

Contact This e-mail address is being protected from spambots. You need JavaScript enabled to view it if you are interested in a table, or have any questions or comments. For more information, visit our website.

Hope to see you there!!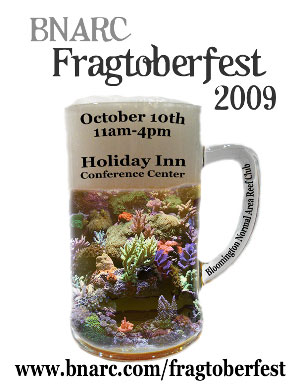 ---
Cinncinati Reefkeepers Society Annual Frag Swap - October 10, 2009
Date: Saturday, October 10, 2009
Time: 10:00 a.m. to 3:00 p.m.

Location:
The Underground
1140 Smiley Ave
Cincinnati, OH 45240
(click for map)
(513) 221-4888
Admission:
Admission is just $5 for hobbyists and $15 for hobbyists with more than 25 items. Families of two adults plus children are just $10. Or, reserve one of our new larger spots for $15 for a prime location at the trading tables! Send a PM to Drimo on cincyreef.com to reserve a prime location at the trading tables.
Featuring:



The Newport Aquarium's Mobile Shark Tank!
For the first time, The Newport Aquarium will be at the Cincy Reef Frag Swap. Come talk with the wonderful marine biologists from the aquarium and see their shark! Also, the best local vendors will be here to sell you quality frags, equipment, invertebrates and more! Stay around all day for our awesome raffle at the conclusion of the swap; featuring items from our club sponsors and other industry-leading vendors and manufacturers. Most importantly, and best of all, lots of hobbyists from all around will be here to buy, sell, and trade with you coral frags propagated in their own tanks! Sometimes even fish, equipment, and more will show up!
If you're in the area (or otherwise), it's well worth a drive. This is a great event all about a lot of reef-loving aquarists getting together to support eachother... so you'll find great deals from great people. It is also, perhaps, the BEST enviornment to learn about the hobby. It's lot's of fun! You'll be sure to leave smiling and with a cooler full of frags! Be sure to bring your coral to trade!!!
---
BRASS - Boston Reefers Annual Saltwater Symposium - October 24, 2009

The Boston Reefers Society, New England's largest saltwater reef keeping society, is hosting an exciting saltwater symposium. This will be a gathering of some of the hobby's most noted speakers, covering topics such as good husbandry, aquaculture, coral propagation and reef preservation. We will also be hosting some of the industry's top vendors. This is certainly an event that should not be missed! Attendees will also have the opportunity to be a part of live demonstrations on proper coral propagation techniques and treating incoming corals for common pests.

In addition to the speakers and vendors, we will close out our day with an extensive raffle! We would like to thank the many wonderful sponsors that have generously donated the many great prizes. Check out the list of top quality products that will be raffled off! http://www.bostonreefers.org/BRASS/Raffle.html

With so many things to do in Boston, this is a great opportunity to bring the family and stay with us at the Seaport Hotel. Besides the conference, you'll have a chance to see all the sights of Boston, and stay at the Seaport Hotel at a discounted rate. We look forward to seeing you there! Be sure to reserve your conference tickets now by clicking here. http://www.bostonreefers.org/BRASS/attendees.html

Whether you are new to the hobby or an advanced aquarist, there is something for everyone. Join the Boston Reefers Society on Saturday, October 24th at the Seaport World Trade Center in Boston for an unforgettable event!

See complete details here: http://www.bostonreefers.org/BRASS/
---
NCPARS 2009 Fall Frag Swap - October 24, 2009
---
Reef-A-Palooza 2009 - October 24, 2009
Where:
The Orange County Fair & Exposition Center"
Building #12
88 Fair Drive
Costa Mesa, CA 92626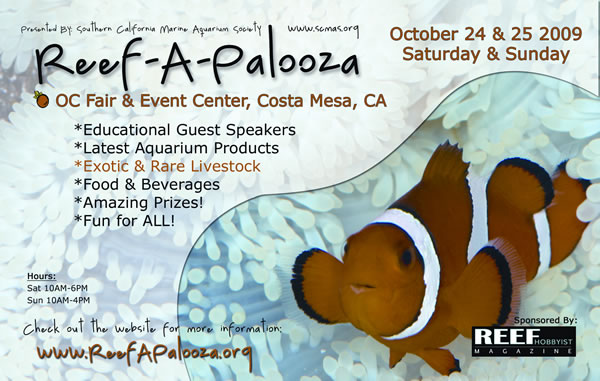 See http://www.reefapalooza.org/ for more details
---
CRASE 2009 - October 24, 2009
Continuing in the tradition established by CRASE 2007, the Central Oklahoma Marine Aquarium Society is proud to sponsor this one day event in Edmond, Oklahoma. The CRASE will feature
Internationally recognized speakers
Vendor show
Local frag farmer sales
Huge raffle with lots and lots of door prizes
Social time to mix with other hobbyists
Local stores from Oklahoma, Arkansas , Texas, and Kansas
Time to meet and talk with the speakers
October 24th 2009 - doors open at 9.30am
Click here for more information.
CRASE 2009 will be held at the University of Oklahoma's Nigh Business Center in Edmond, Oklahoma. This outstanding venue is easily accessible from all the major interstates. Each year the CRASE has grown, and this year will be no different. With national vendors and numerous local stores in attendance, as well as many beautiful coral frags being sold by local farmers, the CRASE represents a great day for the marine hobbyist. Add to that the thousands of dollars of door prizes we have each year - it's a not to be missed event.
---
Raleigh Aquarium Society Swap Meet & Sale - November 15th, 2009
Where:
Wake County Commons Building
Raleigh, NC
(click here for map)
That's right folks, The Raleigh Aquarium Society is at it again, bringing you another exciting event! We will be announcing more information as it becomes available, but let me tell you a little bit about how this event is set up to give you something to look forward to. First of all, we will be hosting this event at The Wake County Commons Building on November 15th, 2009. There will be vendors, manufacturers, stores, clubs and hobbyists all milling together, making great connections in the industry, selling their wares, listening to speakers or just taking advantage of all the awesome deals! Anyone at all is invited for this open event - all you have to do is contact This e-mail address is being protected from spambots. You need JavaScript enabled to view it if you would like to be a vendor, or know of a manufacturer or club who would be interested. However, if you would like to just attend the event, all you have to do is come! And the best part of all - it is ABSOLUTELY FREE to attend! You do not have to be a member of our club, or any club, from the beginner with their first goldfish bowl to the experienced aquarist, this event is for you! Since we know times are hard lately, and we are all trying to stay recession free, we are offering some great incentives for you to join us and help clear out space in your closets and garages and go home with more of the items you need!
Table fee for vendors: pre-registration - $15; at the door - $20 (if you are not selling we will provide you a display table free of charge). Any type of product is welcome, from fresh or salt to brackish and pond, livestock to drygoods, we would like to have a nice even spread of all factions of this wonderful hobby.
Entry fee to join us - FREE!!! Keep your hard earned cash to spend with our vendors on items you need for a great price!
We will post updates as they become available, but as you can see there are plenty of reasons to go ahead and mark those calendars! We also plan to have speakers, so be sure to check back here for updates on the talks! Besides scoring lots of awesome deals, selling your wares or promoting your organization, and communing with you fellow aquarists, you might learn something new as well! What could be a better way to spend a relaxing Sunday?
---
Midwest Marine Conference 2010 - May 21-23, 2010

Where: Cranbrook Institute of Science
39221 Woodward Avenue
Bloomfield Hills, MI 48303
Think REEF ! - Refocusing on Efficient and Effective Fundamentals
For MMC 2010 we are focusing on topics to reduce losses, reduce impact, and move toward a more self-sustainable hobby.
Midwest Marine Conference 2010 includes three days of activities:
Friday social reception with speakers and industry leaders
Speaker sessions on Saturday and Sunday
Frag swap on Sunday, followed by a huge livestock and dry goods raffle
Large exhibit hall full of national and local vendors
Full conference passes start at just $30 per person, which will get you full access to all events over the three days. General admission for the frag swap is from 11am to 4pm on Sunday at $3 per person.
(Access to the exhibit hall and speakers outside that time is available to full conference pass holders only.)

Visit: http://www.midwestmarineconf.org for full details.
---
MAX 2010 - April 10-11, 2010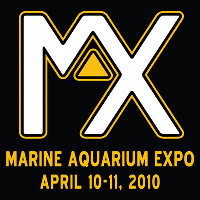 Marine Aquarium Expo (MAX) is the LARGEST marine aquarium event in North America. MAX attracts saltwater enthusiasts from all over the United States for a weekend of selling, trading, exhibiting and showcasing the latest products in the aquatics industry.
Now in its third year, MAX will draw enthusiasts from all over the nation to a vast marketplace of over 100 exhibiting booths, multiple speakers, various workshops and incredible raffles. MAX is an all-inclusive marine event that features a colorful array of fish/reef aquariums and peripheral goods and equipment. Large manufacturers, distributors, retailers and hobbyists will all be exhibiting side-by-side, providing a diverse selection of goods and livestock. The number of corals, livestock and other goods available for sale at MAX is simply incredible!
Our choice of venue at the OC Fair & Event Center is just as impressive with over 32,000 sq. ft. of indoor floor space and a brand new building (#18). Admission is only $15 per day for adults, $10 per day for seniors and FREE for children 12 and under!
When: Saturday, April 10 - Sunday, April 11, 2010
Location: OC Fair & Event Center – 88 Fair Drive, Costa Mesa, CA 92626
Hours: 10:00 AM - 6:00 PM
Speakers: Bob Fenner, Adam Blundell, Frank Burr, and more to be announced later.
Hotels: DoubleTree Club, Ayres Suites and Hotel Hanford all have special MAX room rates available for as low as $95 per night, including breakfast, if you book via our website.
For more information, please visit us at: www.marineaquariumexpo.com
---