MAX - April 3-5, 2009
Frag Swap - April 4, 2009
All Ohio Frag Swap
Saturday April 4th, 2009 from 12:00 p.m. - 4:00 p.m.
Skyview Lodge
336 Pearl Rd.
Brunswick,Oh 44212
www.skyviewlodge.net
Directions and more information on our website www.c-sea.org.
MARS Auction - April 17, 2009
Marine Aquarist Roundtable of Sacramento (MARS) proudly presents, in partnership with Steve Tyree of Reeffarmers.com, the 2nd Annual MARS Auction 2009.
Who: MARS, Reeffarmers (Steve Tyree), Your Reef (John Dakan), Aqualife (Doug Warner) and Underwater Paradise (Rob McKinney) will be joining together to bring you a night of the highest quality and finest corals found in California.

What: The 2nd annual MARS auction (2009) will bring you the opportunity to bid on some of the finest corals around. Primarily captive propagated corals, many Limited Edited, Auction Edition or otherwise very rare or exclusive coral fragments not often available, and almost never in one place at the same time. Bring your tax refund and stimulus checks, because there may be some deals to be had. We expect over 40 corals to be auctioned off in total in one night. Highlights are expected to include (subject to final confirmation): Bazooka Joe chalice, Bubble Gum Monster chalice, Purple Monster Acropora valida, Rainbow Stylophora, and the Ice Fire Echinata, plus many, many more.

When: Friday April 17th, 2009 at 7pm until the last item is sold, no later than 11pm (third Friday, normal MARS meeting time). Our vendors will be setting up beginning at 6pm, and previewing of any corals made available for display may be made available as early as 6:45pm. Registration will begin promptly at 7pm and the auction will begin no later than 7:30pm.

Where: 9500 Greenback Drive, Roundtable Pizza, Folsom, CA , 95630. (916) 989-1133. We suggest you arrive early to order your food and reserve a table. The room comfortably accommodates about 80 people, and lately we have been filling the room to standing-room-only. MARS members be sure to mention the club for your discount on your pizza order.
Details: As for the rest of the details, more information will be forth coming over the next week. Here is what has been finalized thus far. All bidders must register prior to bidding and receive a paddle. MARS members in good standing are entitled to a FREE paddle. Members of the public may register and purchase a paddle for a nominal fee ($5) at the event. Each winning bid must be paid directly to the selling vendor in cash. There are a number of ATM machines within walking distance of the event location; however we suggest that you stop in advance.

Presales: In addition to the auction, some of the vendors will be conducting presales for certain corals, not available at the auction. The presale lists will be sent to club members as early as Sunday April 5th, 2009 along with more details. At this time, we understand that the presales will include some Reeffarmer.com and ORA corals. Each vendor will most likely have slightly different terms for handling presales, and MARS will be working with those vendors to clearly document the presale lists and terms prior to distribution.

Stay tuned for more information, like the complete list of auction corals and more information on the presales. To check in and get the latest and greatest details, links directly to our partner vendors, information on how to get on our presale mailing list and more come to the official event thread on the MARS forums.
Frag Swap - April 18, 2009
The 4th Annual GRMAS Frag Swap will be April 18th, 2009.
Calvin Elementary School
601 36th St Sw
Wyoming, MI 49509
We will be meeting in the gym from 12:00 p.m. to 3:00 p.m.
All other items will be very similar as before, including the largest raffle in Michigan with many thousands of dollars in give-always. We have had 200-300 in attendance at our past swaps.
This year we have a bigger venue and plan to have many more sellers. As of now tables are filling fast. Full tables are $15. Admission is $5 per person and $8 for families. You can arrive as early as 10:00 a.m. to set up before it begins.
For more information, send a PM to Dejavu on Reef Central.
Frag Swap - April 18, 2009
Marine Aquarium Conference - April 19, 2009
The Connecticut Area Reef Society Presents
2009 Marine Aquarium Conference
Time & Location
Sunday April 19, 2009
Mohegan Sun Casino
1 Mohegan Sun Blvd
Uncasville, CT 06382

There will be lectures, vendors, raffle and an auction
Featured Speakers:
Steven Pro
Christine Williams
And an Afternoon with Anthony Calfo
To purchase tickets or find out how you can be a vendor, go to http://www.ctars.org/
ReefED - April 25, 2009
ReefEd 2009 is here!
Scott Fellman - Nutrient Control and Export & Aquascaping for the Aesthetically Challenged
Bob Fenner - Cnidarian Compatibility: Reducing Negative Cnidarian Interactions & RedOx Rationale
Christine Williams - Bigger, Stronger, Fatter: Keeping Fishes Healthy and Treating Diseases Successfully
Conference time: 8:30 a.m. - 5:30 p.m. - the event concludes with a great raffle!
Registration cost: $10 for non-members, FREE for members
Lunch tickets will be sold in advance: $10 each (This basically recoups our costs of providing a nice Italian lunch, same caterer as last year, and allows us to give people an option to bring a lunch or buy fast food and keep registration costs down. There will be a 1 1/2 hour lunch break if you would like to run out and grab something, there are plenty of places nearby.)
Location: Adams 12 Five Star Schools conference center 1500 E 128th Ave. Thornton, CO 80241
Latest information: http://www.reefed.org/2009/Default.aspx
Spring Auction - April 25, 2009
Frag Swap - April 25, 2009
Frag Fest - April 25-26, 2009
Spend a weekend with the Rockford Reefers to help support reef conservation at the premier coral conference across the Midwest. Midwest Frag Fest will be held at the Clock Tower Resort and Conference Center in Rockford, IL on April 25th and 26th, 2009. Experts in the hobby and industry leaders will be at the event to help expand your knowledge and make your coral reef aquarium thrive. FragFest brings local and national experts together to share information with presentations, hands on workshops, and trade show booths.
For the latest detais: http://www.midwestfragfest.com/main.html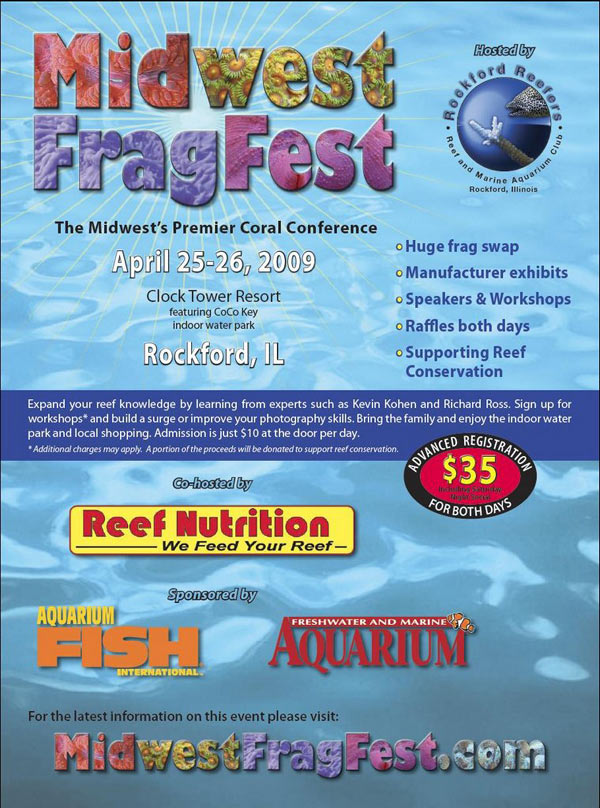 NVR Event - April 25, 2009

Topic: Evolution of the Hobby and 30 Year-Old Tank by Paul Baldassano
When: Saturday, April 25, 12:00 noon
Where: Valley Brewery Family Restaurant, Banquet Room
Address: 157 W. Adams St., Stockton CA

Paul is 60 years old and has had a fish tank since day 1. Paul's family owned a seafood business and he grew up in the store playing with the live crabs and lobsters. After serving in Viet Nam and being awarded two bronze stars for valor, Paul returned home to find that his fish tank only had a couple of inches of water in it and his huge catfish had died the week before.

His adventure into saltwater aquariums occurred in Manhattan in 1971 when he discovered blue devil damsels for sale. He has been a certified diver since 1974 and around 1990 Paul started an urchin collection business to sell urchins to hobbyists for algae control. As his interest in the hobby progressed he began to help fish stores in New York set up to carry saltwater fish and offered assistance in parasite removal and treatment of various specimens. In addition to inventing a unique brine shrimp feeder that revolutionized seahorse husbandry, Paul has written articles that have been published by several magazines ranging from breeding of sea slugs to feeding and care of sea horses.

Today Paul has one of the oldest, if not the oldest, reef tanks owned by an individual at over 30 years old. If you have seen his threads on Reef Central, you're no doubt familiar with his tank. It definitely has a character of its own containing things such as antique bottles collected on dives, an undergravel filter still alive and kicking, and some difficult to keep species of gorgonians and fish. Paul's unique experience and insight on the evolution of the saltwater hobby is not something easily come by. This is a one of a kind meeting that you definitely do not want to miss!
For up-to-date information, go to http://www.nvreefers.org/events.php
Southestern Reef Conference - July 11, 2009
MCMAC - July 17-18, 2009
If you have an event that you would like listed on this page, please contact the webmaster. Events must be at least regional in nature to be considered for listing here.