Past Issues

2009

October 2009

Upcoming Events
Stats:
| | | |
| --- | --- | --- |
| | Today | 1646 |
| | Yesterday | 15633 |
| | This week | 95583 |
| | Last week | 104689 |
| | This month | 124469 |
| | Last month | 525612 |
| | All days | 29057914 |
---
We have: 226 guests, 1 bots online
Your IP: 18.206.13.203
,
Today: Dec 09, 2023
Upcoming Events
Third Annual BNARC Frag Fest
and DIY Workshop - October 10, 2009
Location: Holiday Inn
3202 EAST EMPIRE STREET
Bloomington IL 61704
309-662-4700

Our frag swap is intended to promote the propagation and sharing of corals within the reefing community, so come enjoy a day of frag trading and saltwater education in Central Illinois. Used equipment can also be bought and sold at this event. The cost is $5 - Which includes TWO FREE RAFFLE TICKETS (BNARC Members and Children under 12 Free!) Non-members may use their entry fee towards an annual BNARC membership!

11:00 Frag Swap Starts
12:00-12:20 DIY Session 1
1:00-1:30 DIY Session 2
2:00-2:30 DIY Session 3
3:00-4:00 Raffle and Final Buys

Stations will be available for YOU to try your hand at drilling glass...

Raffle

There are THOUSANDS of dollars in raffle prizes, graciously donated by over 20 sponsors. The list keeps growing every day, so check back. Please check out the sponsors page and don't forget to look at the list of prizes on our frag fest page.

Sellers

Fees:
$20 table - $12 1/2 table - member - non vender
$25 table - $15 1/2 table - non member - non vendor
$50 table - vendors (vendors are considered any seller with a physical storefront)

Whole tables are 6 ft in length
1/2's will be 4 ft of an 8 ft table

Note: Admission included with table purchase and selling used equipment requires a table.

Contact This e-mail address is being protected from spambots. You need JavaScript enabled to view it if you are interested in a table, or have any questions or comments. For more information, visit our website.

Hope to see you there!!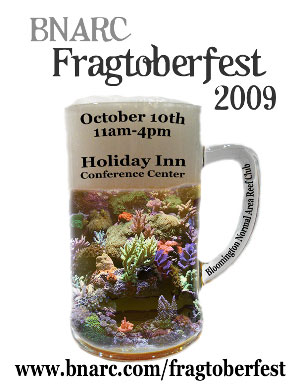 ---
Cinncinati Reefkeepers Society Annual Frag Swap - October 10, 2009
Date: Saturday, October 10, 2009
Time: 10:00 a.m. to 3:00 p.m.

Location:
The Underground
1140 Smiley Ave
Cincinnati, OH 45240
(click for map)
(513) 221-4888
Admission:
Admission is just $5 for hobbyists and $15 for hobbyists with more than 25 items. Families of two adults plus children are just $10. Or, reserve one of our new larger spots for $15 for a prime location at the trading tables! Send a PM to Drimo on cincyreef.com to reserve a prime location at the trading tables.
Featuring:




The Newport Aquarium's Mobile Shark Tank!
For the first time, The Newport Aquarium will be at the Cincy Reef Frag Swap. Come talk with the wonderful marine biologists from the aquarium and see their shark! Also, the best local vendors will be here to sell you quality frags, equipment, invertebrates and more! Stay around all day for our awesome raffle at the conclusion of the swap; featuring items from our club sponsors and other industry-leading vendors and manufacturers. Most importantly, and best of all, lots of hobbyists from all around will be here to buy, sell, and trade with you coral frags propagated in their own tanks! Sometimes even fish, equipment, and more will show up!
If you're in the area (or otherwise), it's well worth a drive. This is a great event all about a lot of reef-loving aquarists getting together to support eachother... so you'll find great deals from great people. It is also, perhaps, the BEST enviornment to learn about the hobby. It's lot's of fun! You'll be sure to leave smiling and with a cooler full of frags! Be sure to bring your coral to trade!!!
---
SLASH Fall Frag Swap - October 18, 2009
Saint Louis Area Saltwater Hobbyists (SLASH) would like to invite you to our Fall Frag Swap Event on Sunday October 18th, 2009. The swap will be held at the same location as our last from Noon until 3:00PM. Those that will need time to set up. The doors will open at 10:00 AM.
The address for the event at the Eagles Lodge is:

2558 Madison Avenue,
Granite City, IL 62040
As usual there is no admission fee for anyone who wishes to attend. There is no table fee for members who have frags and/or items that they wish to sell or trade. Non-members who wish to sell are encouraged to either join the club or to make a generous donation to the raffle.

If you have any questions you can send a PM on Reef Central to either capncapo or rams here on RC. We will try to get back to you as soon as possible.
See you there...
BRASS - Boston Reefers Annual Saltwater Symposium - October 24, 2009

The Boston Reefers Society, New England's largest saltwater reef keeping society, is hosting an exciting saltwater symposium. This will be a gathering of some of the hobby's most noted speakers, covering topics such as good husbandry, aquaculture, coral propagation and reef preservation. We will also be hosting some of the industry's top vendors. This is certainly an event that should not be missed! Attendees will also have the opportunity to be a part of live demonstrations on proper coral propagation techniques and treating incoming corals for common pests.

In addition to the speakers and vendors, we will close out our day with an extensive raffle! We would like to thank the many wonderful sponsors that have generously donated the many great prizes. Check out the list of top quality products that will be raffled off! http://www.bostonreefers.org/BRASS/Raffle.html

With so many things to do in Boston, this is a great opportunity to bring the family and stay with us at the Seaport Hotel. Besides the conference, you'll have a chance to see all the sights of Boston, and stay at the Seaport Hotel at a discounted rate. We look forward to seeing you there! Be sure to reserve your conference tickets now by clicking here. http://www.bostonreefers.org/BRASS/attendees.html

Whether you are new to the hobby or an advanced aquarist, there is something for everyone. Join the Boston Reefers Society on Saturday, October 24th at the Seaport World Trade Center in Boston for an unforgettable event!

See complete details here: http://www.bostonreefers.org/BRASS/
---
NCPARS 2009 Fall Frag Swap - October 24, 2009
---
Reef-A-Palooza 2009 - October 24, 2009
Where:
The Orange County Fair & Exposition Center"
Building #12
88 Fair Drive
Costa Mesa, CA 92626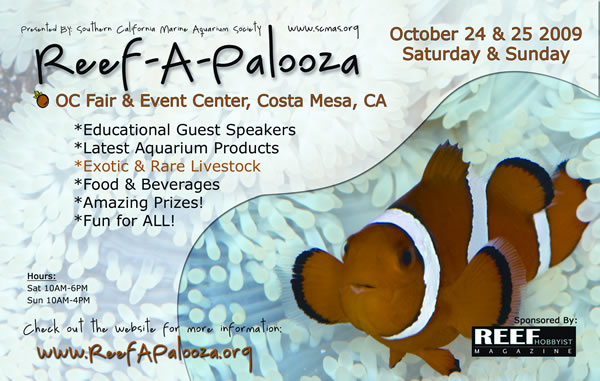 See http://www.reefapalooza.org/ for more details
---
CRASE 2009 - October 24, 2009
Continuing in the tradition established by CRASE 2007, the Central Oklahoma Marine Aquarium Society is proud to sponsor this one day event in Edmond, Oklahoma. The CRASE will feature
Internationally recognized speakers
Vendor show
Local frag farmer sales
Huge raffle with lots and lots of door prizes
Social time to mix with other hobbyists
Local stores from Oklahoma, Arkansas , Texas, and Kansas
Time to meet and talk with the speakers
October 24th 2009 - doors open at 9.30am
Click here for more information.
CRASE 2009 will be held at the University of Oklahoma's Nigh Business Center in Edmond, Oklahoma. This outstanding venue is easily accessible from all the major interstates. Each year the CRASE has grown, and this year will be no different. With national vendors and numerous local stores in attendance, as well as many beautiful coral frags being sold by local farmers, the CRASE represents a great day for the marine hobbyist. Add to that the thousands of dollars of door prizes we have each year - it's a not to be missed event.
---
TCMAS Frag Swap and Speaker Event - November 7, 2009
When: Saturday, Nov. 7th, 2009
9am - 5pm
Where: Apple Valley Community Center
14603 Hayes Road
Apple Valley, MN 55124
Great Raffle Prizes!
Free Speaker Event!
Speakers:

Subway for Lunch! ( Suggested donation of $3 per person for lunch )

Speakers start at 9am.
Break for lunch
Frag swap starts at 1pm.

Tables are free for hobbyists. Donations of cash or goods for raffle accepted from vendors.

Visit the forums at www.tcmas.org for more information.
---
Raleigh Aquarium Society Swap Meet & Sale - November 15th, 2009
Where:
Wake County Commons Building
Raleigh, NC
(click here for map)
That's right folks, The Raleigh Aquarium Society is at it again, bringing you another exciting event! We will be announcing more information as it becomes available, but let me tell you a little bit about how this event is set up to give you something to look forward to. First of all, we will be hosting this event at The Wake County Commons Building on November 15th, 2009. There will be vendors, manufacturers, stores, clubs and hobbyists all milling together, making great connections in the industry, selling their wares, listening to speakers or just taking advantage of all the awesome deals! Anyone at all is invited for this open event - all you have to do is contact This e-mail address is being protected from spambots. You need JavaScript enabled to view it if you would like to be a vendor, or know of a manufacturer or club who would be interested. However, if you would like to just attend the event, all you have to do is come! And the best part of all - it is ABSOLUTELY FREE to attend! You do not have to be a member of our club, or any club, from the beginner with their first goldfish bowl to the experienced aquarist, this event is for you! Since we know times are hard lately, and we are all trying to stay recession free, we are offering some great incentives for you to join us and help clear out space in your closets and garages and go home with more of the items you need!
Table fee for vendors: pre-registration - $15; at the door - $20 (if you are not selling we will provide you a display table free of charge). Any type of product is welcome, from fresh or salt to brackish and pond, livestock to drygoods, we would like to have a nice even spread of all factions of this wonderful hobby.
Entry fee to join us - FREE!!! Keep your hard earned cash to spend with our vendors on items you need for a great price!
We will post updates as they become available, but as you can see there are plenty of reasons to go ahead and mark those calendars! We also plan to have speakers, so be sure to check back here for updates on the talks! Besides scoring lots of awesome deals, selling your wares or promoting your organization, and communing with you fellow aquarists, you might learn something new as well! What could be a better way to spend a relaxing Sunday?
---
F.R.A.G. 2009 - December 5, 2009

It's time for MASVC's Third Annual F.R.A.G. Swap!
(Fish, Reef, and Aquarium Gear)

Remember the days when reef hobbyists brought coolers full of corals, people talked about their aquariums over frosty beverages (responsibly, of course), burgers and dogs were cooked to perfection by volunteers, and you left feeling like you truly "scored" on some great stuff?

We believe it's possible to bring back that great vibe!

When: Saturday, December 5, 2009
11am – 4pm

Where: TAAM Warehouse
1011 Avenida Acaso
Camarillo, CA 93012

Pricing $5 Entry (10 and under Free)
Presented by:
---
Midwest Marine Conference 2010 - May 21-23, 2010

Where: Cranbrook Institute of Science
39221 Woodward Avenue
Bloomfield Hills, MI 48303
Think REEF ! - Refocusing on Efficient and Effective Fundamentals
For MMC 2010 we are focusing on topics to reduce losses, reduce impact, and move toward a more self-sustainable hobby.
Midwest Marine Conference 2010 includes three days of activities:
Friday social reception with speakers and industry leaders
Speaker sessions on Saturday and Sunday
Frag swap on Sunday, followed by a huge livestock and dry goods raffle
Large exhibit hall full of national and local vendors
Full conference passes start at just $30 per person, which will get you full access to all events over the three days. General admission for the frag swap is from 11am to 4pm on Sunday at $3 per person.
(Access to the exhibit hall and speakers outside that time is available to full conference pass holders only.)

Visit: http://www.midwestmarineconf.org for full details.
---
MAX 2010 - April 10-11, 2010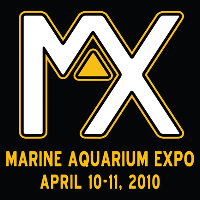 Marine Aquarium Expo (MAX) is the LARGEST marine aquarium event in North America. MAX attracts saltwater enthusiasts from all over the United States for a weekend of selling, trading, exhibiting and showcasing the latest products in the aquatics industry.
Now in its third year, MAX will draw enthusiasts from all over the nation to a vast marketplace of over 100 exhibiting booths, multiple speakers, various workshops and incredible raffles. MAX is an all-inclusive marine event that features a colorful array of fish/reef aquariums and peripheral goods and equipment. Large manufacturers, distributors, retailers and hobbyists will all be exhibiting side-by-side, providing a diverse selection of goods and livestock. The number of corals, livestock and other goods available for sale at MAX is simply incredible!
Our choice of venue at the OC Fair & Event Center is just as impressive with over 32,000 sq. ft. of indoor floor space and a brand new building (#18). Admission is only $15 per day for adults, $10 per day for seniors and FREE for children 12 and under!
When: Saturday, April 10 - Sunday, April 11, 2010
Location: OC Fair & Event Center – 88 Fair Drive, Costa Mesa, CA 92626
Hours: 10:00 AM - 6:00 PM
Speakers: Bob Fenner, Adam Blundell, Frank Burr, and more to be announced later.
Hotels: DoubleTree Club, Ayres Suites and Hotel Hanford all have special MAX room rates available for as low as $95 per night, including breakfast, if you book via our website.
For more information, please visit us at: www.marineaquariumexpo.com
CTARS Marine Aquarium Conference - April 25, 2010
When: Sunday, April 25th, 2010 - 8am - 5pm
Where: Mohegan Sun – 1 Mohegan Sun Blvd; Uncasville, Connecticut 06382
For more information, please visit us at: www.ctars.org
---
MACNA XXII - September 2 - 5, 2010

The Marine Aquarium Conference of North America (MACNA), is the largest and oldest marine aquarium conference held in the US and Canada. Hobbyists at all skill levels have been enjoying MACNA for over twenty years. Aquarium enthusiasts and avid reefkeepers will have the opportunity to meet and mingle with peers and professionals. Learn from leading researchers in the fields of aquaculture, marine biology, diving and oceanography. Discover new technologies and purchase cutting-edge equipment. Conference attendees will have an opportunity to purchase some of finest hand-picked corals from over 100 vendors.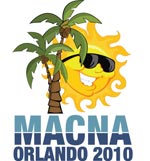 But that's not all! Get ready for a huge raffle. Marine reefkeeping equipment, supplies and countless other highly sought after items will all be raffled off. You can purchase your raffle tickets when you register for your full conference pass. Enjoy the open bar and reception dinner Friday night, as well as the spectacular Saturday night banquet!

MACNA XXII will be held in sunny Orlando, Florida at the world's largest Marriott Resort and Convention Hotel on September 2-5, 2010 (Labor Day Weekend). Yes, MACNA will only be minutes from Walt Disney World, Sea World and Universal Studios. Check out the Travel page for more information on this amazing resort and the Attraction Information page for Discounted Tickets to Walt Disney World and many other theme parks.

Don't miss this opportunity to Register NOW while conference ticket prices are low.
---