Northern Valley Reefers (NVR)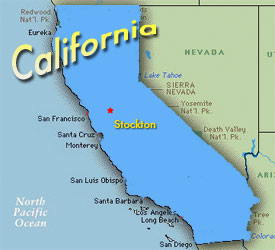 Officially founded in 2005, the Northern Valley Reefers (NVR) are celebrating their fifth year serving the reef hobbyists in California's Northern San Joaquin Valley including Stockton, Lodi, Lathrop, Manteca, Modesto, and Tracy. Our club is continually growing as more and more local reefers discover this club. NVR holds bi-monthly meetings, starting with February's "New to Saltwater" meeting, several "unofficial" events such as tank tours, BBQ's, educational field trips and we are putting together the clubs first regional frag swap in October 2009. The club has built extraordinary relationships with fish stores in the Bay Area, Sacramento and the local area in addition to a variety of online retailers and vendors as official club sponsors. Thanks to our wonderful sponsors and amazing members NVR is able to bring in informative speakers and produce top-notch educational and interactive events.
History
---
In 2005 Scott Noack and Jacob Dinardi took their idea of forming a local club and ran with it. The two met with Jim Adelberg from the Bay Area Reefers to discuss how their club was structured and learn about all the necessary legal forms needed to start a club. The two filed the needed paperwork and NVR was born. Jeremy Hale (Whodah? of Exotic Frags) would host NVR's first online forum helping to reach out to reefers in the area. The club now hosts its own website at www.nvreefers.org as well as a club forum here on Reef Central. The membership continues to grow with over 165 members to date.
Members enjoy the summer BBQ event.
Membership
---
The goal of NVR is to help bring fellow reefers together and educate each other in conscientious reefkeeping and husbandry, while applying practical methods to help promote and maintain the use of captive propagated corals and low-impact, environmentally-friendly reefing. NVR is an inclusive club, meaning all of our meetings are open to the public, and anyone can participate with us. We do offer "contributing member" status for members who donate $20 or more during the year to help pay for speakers, arrange events, and other club expenses. There is never any pressure to donate and become a contributing member, but contributing members do receive special benefits including club discounts with many of our sponsors. The club has built a great relationship with a local restaurant, Valley Brewery Family Restaurant in Stockton, allowing the club to use their banquet room for meeting giving participants access to their full menu of food, beverages, and hand-crafted beer.
Members participate in DIY workshops.
Club Events
---
Each year the club hosts six official events, starting in February, held every other month on the last Saturday beginning at noon. The club has enjoyed having guest speakers such as Steve Robinson, Matt Wandell, and Frank Burr in the past and has scheduled a strong lineup in 2009. This year's schedule kicked off with Scott Fellman and will also feature Rich Ross and the legendary Paul B. In between, the club arranges a unique mix of unofficial events ranging from local tank tours, DIY workshops, summer BBQ's, the annual Holiday Party in December, as well as special sponsor appreciation days where members will caravan to the Bay Area and Sacramento to visit our sponsors. These are always great events as the store owners appreciate being able to spend time with our members and often have unique club-only selection and deals on that day.
Scott Fellman speaking to the club.
Scott Fellman and Frank Burr used powerpoint presentations as teaching aides.
The club also participated in the first Bay Area Marine Aquarium Conference (BAYMAC) in 2008 and will be participating in this year's BAYMAC in early summer.
Jacob and Lak (front left and right) representing the club at BAYMAC 08.
Inaugural NVR Regional Frag Swap
---
The 2009 Board of Directors took on the arduous task of putting together the clubs first-ever frag swap. On Saturday, October 10, NVR will host a regional frag swap for reefers from the Valley, Sacramento and Bay Areas. Expecting well over 150 participants, the club will host the event in centrally-located Tracy and is open to any contributing club member from the surrounding clubs. Plans are already underway with many great industry manufacturers and vendors onboard as event sponsors. The swap will also include a raffle in which the grand prize will be a fully-furnished coral propagation system..
Pay It Forward
---
A main goal of the club is to build interest in the hobby and create goodwill through the sharing of tank-propagated corals. Members are encouraged to pay it forward and help any beginning hobbyist or veteran with corals, macro algae, advice and a hand when needed. As a club we feel it's as important as it is rewarding to further fellow hobbyists experience and camaraderie while at the same time growing the hobby. Most members have felt the generosity of others helping to circulate everything from common to rare corals. All we ask is to help pay it forward and give back frags in the future to other hobbyists – no strings attached.
Tank tours are always fun.
Members ask questions about the tanks being shown.
Great ideas come from these tours.
The Future
---
The Northern Valley Reefers are growing strong and will continue to do so through 2009 and well into the years to come. NVR is looking to add more robust features to its website to help connect members with each other as well as our sponsors. The energy and enthusiasm around the meetings and on the forums is incredible. As new and older members alike become more involved, they find friends and build great relationships, which is great for the hobby and great for the club. If ever in the area, we encourage you to come by for a meeting. For more information on the Northern Valley Reefers, visit our website at www.nvreefers.org today! We look forward to seeing you at a future event!

---
If you would like to showcase your club in Reefkeeping Magazine, please email the webmaster for more information.