Connecticut Area Reef Society (CTARS)
Introduction
---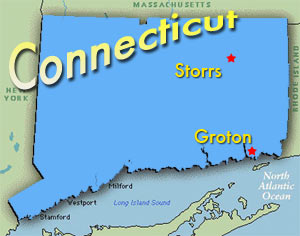 The Connecticut Area Reef Society (C.T.A.R.S – www.ctars.org) is group of hobbyist (around 200 members) that is dedicated to sharing the knowledge and experience, promotes responsible husbandry through proper tank set-up, maintenance and appropriate stocking of our reef tanks, and passing along captive cultured corals through trades. We have been around (in one form or another) since the late 1990's. We have members from Connecticut, Vermont, New York, Rhode Island and Mass.
Leadership
---
The 2009 Officers are: President - Jeff Myjak (Hans1976)
Vice President – Greg Deemy (Obi-Dad)
Treasurer –Rich Bouvier (Gobey)
Secretary – Dave Huther (Shark Bait100)

In addition to these formal positions, we have a Public Relations Director and four advisors (most of which are past officers).
Meetings
---
We generally meet on the third Sunday of the month and we move our meetings around the state of Connecticut. We work with 2 High Schools – Science and Magnet School in Groton, CT and E.O.Smith in Storrs, CT. We try to meet once a year at both of these schools. While some might think "What can you do at a school?", these schools are unique. Justin Credible runs a program at the Science and Magnet School that performs research on Long Island Sound, runs a Coral Bank (www.coralbank.org) in conjunction with Mystic Aquarium, Atlantis Aquarium and several schools, and they perform Hydroponics experiments in his greenhouse.
Jon Swanson (RC's own fitch4) runs the program at E.O.Smith High School and he focuses on fragging and greenhouse growing.
Events
---
Some of our other events include speaker meetings – over this past year we have had Adam Blundell, Joe Burger, James Fatherree and Marc Levenson come in and talk. We have also done things like a field trip to Atlantis Aquarium (Riverhead Long Island), collection trip in Long Island Sound, family BBQ, tank tour (we took a Saturday and went out and visited member tanks including one owned by one of our local fish stores, followed by a BBQ) and a couple of photography workshops. We also hold an annual Frag Farmer event at E.O. Smith where all the proceeds go to benefit their program.
One of our most fun events was "BINGO – Reefer Style". We came up with 75 answers (things like whose avatar is a picture of themselves in the mouth of a shark) and entered them into a computer program. It randomly generated cards 5 rows by 5 columns. Then we asked a question, the first person that answers it right, gets a little prize. Everyone who has the answer on their card gets to cross it off. The 1st person who gets the predetermined BINGO pattern wins a great prize. Not only was it fun, but it tested the members knowledge of the hobby and of the club.
By far, our biggest event is a one day conference. In April 2009, we are hosting Steven Pro, Christine Williams and Anthony Calfo at the Mohegan Sun Casino. We will have a great lunch and dozens of vendors.
Member Benefits
---
In addition to our members getting to attend meetings, they get to vote every year in our annual elections, get discounts at many of our local fish stores and participate in "Member Only" group buys.
Demographics
---
C.T.A.R.S. membership is made up primarily of reefers (reef tank keepers). After that the membership varies a lot. Age, gender, ethnicity, income, vocation and location are distributed pretty evenly.
Resources
---
Reef Central (RC) is where the members meet online. However, we have created a forum on our CTARS website to give our members the opportunity to announce events (like fund raisers), sell non-reef related items. We also have created a program that mirrors BAR's called "Don't Break The Chain" where members give away coral frags in exchange for the right to get one should they ever anointer a crash.
For more information, please visit our website: http://www.ctars.org.
---
If you would like to showcase your club in Reefkeeping Magazine, please email the webmaster for more information.