Central Oklahoma Marine Aquarium Society (COMAS)
Overview
---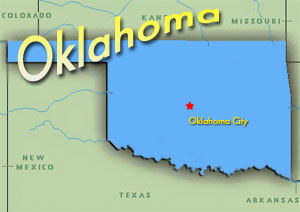 The Central Oklahoma Marine Aquarium Society was established in the late '90s as a small club comprising a few friends who would meet at each other's homes every second Saturday of the month. The club now has in excess of 250 active members, a saltwater library holding thousands of dollars of books, an extensive "equipment for loan program" a monthly aquarium photography contest and most importantly a program we refer to as the Donor Program. We still meet every second Saturday however, due to the size of the group, we now meet at a local University where we maintain a 280 gallon reef tank. Our main focus since inception has remained the same. We strongly believe that education and a friendly place to ask questions is the key to success in this hobby.
COMAS Organization
---
Over the last few years COMAS has more than tripled in size. As the membership has grown, the elected officers of the club have taken steps to strengthen the infrastructure. One of the most notable of these organizational moves is the creation of a "Leadership Team" which includes Chairman positions to lead the club programs and maintain the website, public relations and plan meeting topics. The President is usually responsible for appointing members to these positions and the 'team' meets regularly and has a forum available to discuss ideas. Another important step in strengthening the club has been the writing of the Bylaws and Articles of Incorporation and then proceeding to file for non-profit organization status.
Meetings
---
Meetings are generally held on the second Saturday of each month and run from 7.30 till around 9.30. The meetings are usually planned to have both an educational and a social aspect. To assist in the organization of the meetings we have several officers who have the role of organizing and planning speakers or events. The Educational officer(s) have as their priority an educational aspect of the meeting. This may be the organization of a frag demonstration, the booking of a speaker, a discussion on water flow or other such subject. The Social officers plan events more geared to the socialization of the club members. These events include tank tours, Christmas parties, external trips to the local public aquarium at Jenks (Tulsa) and our annual membership drive which is held in January of each year.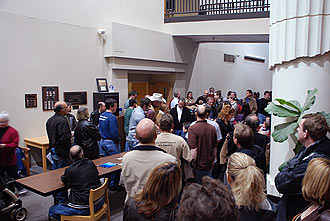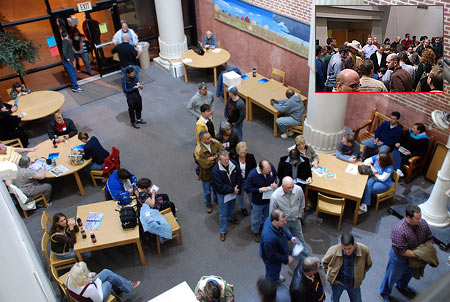 The format of each meeting varies but generally we have a meet and greet session from 7.30 through 8.00 at which point we have a discussion of any matters of interest. These may be notices of upcoming events, information from our many sponsors or news from the local fish stores that support COMAS. The main topic of the evening usually occupies an hour or so and then the rest of the time is devoted to discussion, socialization and operation of the donor program (see below). The group generally disperses around 9.30 with many members going out to eat together. On average each meeting will have 50-75 members, while the January meeting may have in excess of 200 people.
COMAS Programs:
The Library
---
COMAS has a large library of books and DVDs that have been both donated and bought using member dues. The contents of the library are determined by the members of COMAS who are encouraged to contact the club President or the club Librarian with suggestions. On average the club budgets $500 per year to new books and other multimedia. The library is available to all of the current members and the club librarian oversees the loan and return of the books. Books are requested via email or private messages and are handed out/collected at each meeting. Due to demand we have several copies of many books. Some of the more expensive books are kept as reference only and are brought to meetings, but are not available for loan. The club also owns the last several years' seminar series of the IMAC conferences. Currently there is over $2,000 worth of saltwater texts and resources.
The Equipment Program
---
COMAS members have the option of borrowing various items of equipment owned by the club. These items have been selected as materials which are useful but not necessarily essential for a hobbyist to own. For example the club owns multiple sets of moving equipment to allow a member to move a tank. These include six pairs of vacuum glass clamps, several furniture dollies and a 150 gallon stock trough. These are constantly being used by our members and have been invaluable in many tank moves. In addition the club owns several fish fraps, a light meter and other items such as highly accurate refractometers and a spectrometer. All of these items are required only once in a while by any member, but are constantly in use by the club as a whole.
Reef Shots: The Photo of the Month Competition
---
The Reef Shots is a monthly competition where COMAS members can enter a picture of their tank, or that of another COMAS member's tank. The entries each month are voted on inside the COMAS forum on Reef Central and the winner is announced at the next meeting. The winner receives a prize, usually a $25 gift certificate redeemable at one of the local stores that sponsors COMAS. In addition, submitted photographs are collated each year into a COMAS calendar. This has been a really successful program and has resulted in two excellent calendars for 2007 and 2008. These calendars are printed locally and are sold inside the club at cost and at various sponsoring fish stores.
The Donor Program
---
This program is designed to generate a self sustaining source of coral fragments available to all COMAS members. Essentially, if a member has a coral that has grown well for them and that coral is able to be split then they break fragments off of the parent colony and pass them onto another club member. The new owner promises to pass a fragment of this coral along once it has doubled in size, and another piece once it has regrown. This repeats and ultimately generates lots of coral fragments for all the members in the club. Access to these allows a member to experiment with new corals, obtain unusual specimens or simply add to their own current collection. At present there are approximately 85 different corals in the donor program ranging from the easy to keep xenia to the more demanding SPS such as Acroporas. There are sign up lists for available fragments hosted within the COMAS forum. A current COMAS membership is required to be eligible to receive frags from this program. Over 165 members have participated in this program. The first frag was passed out in December of 2003, since then over 1000 fragments have been passed along to members. Several corals are now in their fifth generation inside the program. In addition to corals donated by members we also use frag demonstrations with purchased corals to add to the pool of potential donor corals. In an upcoming edition of Reef Keeping magazine the history and implementation of the Donor Program is discussed in detail for the benefit of any other clubs wishing to promote education and conservation of available resources. The Donor Program Forum can be found here: http://forum.mycomas.com/forumdisplay.php?f=11
Annual Conference…The CRASE
---
Each year COMAS organizes a conference for the local saltwater community. Entitled the Conference for Reef Aquarists and Saltwater Enthusiasts- or CRASE- this is becoming a very popular event. Again, keeping with the club philosophy of education we have several invited speakers as well as practical hands on demonstrations. In 2007 (our first year of the CRASE) we sold tickets at $10 for the one day event and had Dr. Ron Shimek, Dr. Paul Whitby and Mr. Steve Tyree as guest speakers. The talks were excellent and the speaker-attendee interactions were great as all speakers freely mingled among the crowds. In addition several vendors made an appearance and many local hobbyists came to sell/trade coral fragments. The CRASE of 2007 had in excess of 330 attendees.
CRASE 2008 will be held on October 25th in Edmond Oklahoma (www.craseokc.com) and another great lineup of speakers have been scheduled. Speaking again are Drs. Shimek and Whitby and joining them is Mr. Adam Mangino and Dr. Sanjay Joshi. Dr. Shimek will be discussing invertebrates used as clean up crews in marine aquaria. His talk will encompass common as well as the not so commonly available invertebrates as well as the pros- the cons- the dos and the don'ts and practical applications. Mr. Adam Mangino is one of the ORA team and is primarily involved with their captive breeding program and, in particular, he is responsible for the hybridization to create the indigo dottyback. His presentation will encompass the captive breeding of marine ornamentals. Dr. Sanjay Joshi has published numerous articles on spectral qualities of bulbs and the effect of various reflectors. It is fair to say the level of expertise he will be bringing to the CRASE is outstanding. Dr. Joshi will be discussing various options in reef lighting with particular respect to both T5 and MH technology. Dr. Paul Whitby will be discussing aquascaping techniques with particular reference to the redesign of his 600g tank, featured as October 2007's Tank of the Month in Reefkeeping Magazine.
| | |
| --- | --- |
| | |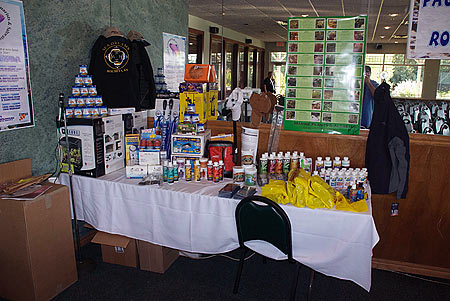 This great line up is backed by an even more impressive vendor show including local vendors such as Aquariums Tropical Fish Supply and Aquarium Oddballs as well as other national vendors such as DTs Phytoplankton, Seachem, Zoanuts, PFO, Reeflo and more. This year we anticipate in excess of 500 person attendance. The sponsors of CRASE have been extremely generous and the door prizes will include a complete 75 gallon set up (Tank, Stand, Sump, Plumbing, T5 lights), as well a Dart pump from Reeflo, Mag drives from Danner, Live Rock from Tampa Bay Saltwater and many many other prizes. Tickets for CRASE 2008 are now on sale and are only $15 per person. These can be purchased at the door on the day of the event or via paypal. Please contact craseokc@gmail.com or visit http://www.craseokc.com for more information.
In Summary
---
COMAS is a great club packed with great people. The knowledge level extends from expert all the way down to novice, as does the advice. COMAS is a great place to grow in the hobby- as seen by the number of tank upgrades currently being discussed. With the structuring of the meetings to have both and educational and social aspect COMAS is more a group of friends with a common interest than a group who meet to discuss tanks. Visit with us in our Reef Central Forum.
For more information, please visit our website: http://www.mycomas.com/.
---
If you would like to showcase your club in Reefkeeping Magazine, please email the webmaster for more information.