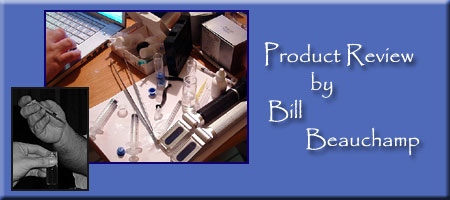 Sera Test Kits - How Do They Measure Up?
A number of our members have been asking about Sera test kits, so I recently purchased five Sera test kits and tested them for accuracy and ease of use. They were tested against five other brands. Sera products are made in Germany, and the instructions are printed in 21 languages.
General Comments
---
The test vials are a nice quality, marked in 5 ml increments. The reagent bottles are sealed and must be punctured open with the top of the cap for the initial test. This probably extends their shelf life. The spoons for the powders are rather small but useable. The instructions are easy to read and relatively straightforward. There were good color end points on all kits tested. These are titration-type test kits which require the user to take a sample of tank water and slowly drip a reagent into the vial to produce a color end point.
Calcium
---
The calcium kit tested reasonably accurate and measures calcium in 20 ppm increments. For general testing this kit performed well.
Alkalinity
---
The alkalinity (KH) test has one reagent like most other low-end kits and measures in 1 dKH increments. Accuracy was close to my other kits.
Magnesium
---
The magnesium (Mg) test was reasonably accurate with my other kits, however, it required two separate tests to arrive at the final number. This test reports results in 60 ppm increments. My concern is since all of the reagent bottles are the same size, one uses much more of 'reagent #3' than the others. Users will certainly run out of #3 before any other reagent is even close to being exhausted.
Phosphate
---
The phosphate (PO4) kit only provides results down to .1 mg/l. I was unable to get a color in the test sample because my tank generally runs between .03 and .05 ppm. This test may be good for ponds, but I do not recommend it for reef tanks.
Nitrate
---
The nitrate (NO3) test was consistent with my other kits. Unlike other low-end kits, it provides the user with four ranges (by diluting the sample). This is good for tanks with high level nitrates as well as low level nitrates.
Summary
---
Since the reagent bottles are small, extra care should be taken when dropping reagents by ensuring the bottles are completely inverted to help with uniformity of drops. Sera does not state how many tests you can expect from their kits.
With the exception of the phosphate kit, I find these kits deliver good general results and are satisfactory for inexpensive monitoring of our tanks' parameters.
---
For further discussion, visit Reef Central's Chemistry forum.