Reef Aquarium Society of Charlotte
(RASOC)
About Us
---
The Reef Aquarium Society of Charlotte (RASOC) is a saltwater enthusiast club based in Charlotte, N.C. We have a fee-based membership and are a registered non-profit organization in the state of North Carolina. The club was founded in December 2004, so it is a fairly young club. We are vendor neutral and promote captive breeding and propagation. The club is also a staunch supporter of MASNA.
Mission
---
Our mission as a local club is, first and foremost, to promote interest in and enjoyment of all aspects of the marine aquarium hobby and foster camaraderie and friendships of like-minded hobbyists. We work to educate the public on topics related to the biology, physiology, and chemistry of reef biotopes through the sponsorship of meetings, lectures, publications, websites, competitions, exhibits and other means. We provide a public forum for sharing resources and information among local aquarium enthusiasts to maximize growth, foster breeding and minimize loss of marine life. We support research, education and conservation efforts aimed at improving marine and coral reef environments, and we strive to involve and educate young people about aquatic life and the marine aquarium hobby.
Meetings

---
Meetings are held on the third Saturday of every month at 2 p.m. We have national speakers as well as members presenting on everything hobby-related. The presentations are then followed by a frag swap. Once a year, we have a member and family picnic with a fairly large raffle with donations from members, local sponsors and national vendors. If you have an interest in the saltwater hobby and live in or near Charlotte, N.C., be sure to come by an event to see if RASOC is right for you.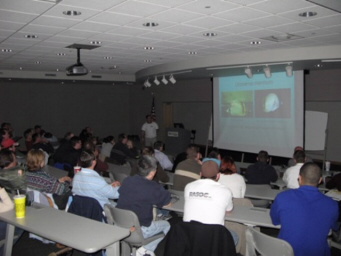 Membership

---
Our members vary from expert level to beginners. We have had members with the honor of Tank of the Month here on Reef Central. Our members have tanks ranging in size from 3 gallons up to 1000 gallons total and understand that everyone has something to offer. The membership consists of individuals with everything from fish-only setups to full-blown reefs. Although we are such a young club, we have had as many as 140 members and ten local sponsors.
Library
---
The club maintains a library with books, magazines, videos and DVDs that are available to our membership. The ever-expanding collection offers media with information that ranges from the beginnings of a saltwater setup to advanced reefkeeping data. We feel that this allows members the opportunity to read more about the hobby and then decide if the book is something that they would like to purchase for their own collection.

For more information, please visit our website: www.rasoc.org.
---
If you would like to showcase your club in Reefkeeping Magazine, please email the webmaster for more information.