"The Georgia Aquarium is to be an entertaining, educational, and scientific institution featuring exhibitions and programs of the highest standards, offering engaging visitor experiences and promoting the conservation of aquatic biodiversity throughout the world."
Introduction

---
We appreciate Reefkeeping Magazine allowing us to showcase a few of the exhibits at the Georgia Aquarium before everyone descends upon Atlanta for the Marine Aquarium Conference of North America (MACNA XX) September 5-7th, 2008. With this article we wish to provide you a written, behind the scenes tour before you see the real thing. For this article we are going to focus on only one exhibit – The Pacific Barrier Reef, but rest assured, there are many more exhibits that await you.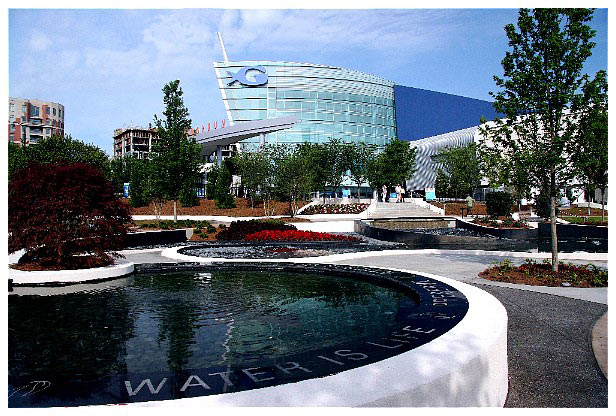 The Georgia Aquarium is the culmination of the labor of thousands of construction workers and contractors, the total dedication of hundreds of employees and volunteers, the cooperation of civic and community leaders, the support of the media, the sharing of ideas by professional colleagues and consultants, and most importantly, the foresight and generosity of Bernie and Billi Marcus. It was just over 150 years from the opening of the first public aquarium in Regents Park at the London Zoo to the opening day at the Georgia Aquarium. Throughout this 150-year history, tremendous technological advances have resulted in larger and better exhibits, and have allowed the public to see glimpses of this ocean planet that most people will never be able to see first-hand. The Georgia Aquarium stands at the pinnacle of this long evolution in aquarium design.
The Georgia Aquarium, currently the world's largest aquarium, has truly been built on the shoulders of giants, capitalizing on the best features of modern aquariums, and learning from the mistakes of the past. To cite a few examples: the acrylic window at the Ocean Voyager exhibit is the largest window on the North American continent; a living coral reef now flourishes in downtown Atlanta in the Aquarium's Tropical Diver Gallery; the Education Loop is a major acknowledgement of the importance of education in public aquariums; the Correll Center for Aquatic Animal Health is a great example of public philanthropy and a partnership with a research university (the University of Georgia). Using its financial resources, the Georgia Aquarium has begun to "give back to nature" by sponsoring conservation projects in Georgia and other areas of the world.
The Pacific Barrier Reef Exhibit

---
Few places on the planet can match the diversity and beauty of life on coral reefs, and they are places that most people dream of visiting someday. The Georgia Aquarium can play an important role by helping people see and experience these animals from far-away locations in exhibits that represent a close simulation of nature. These exhibits can also generate a heightened awareness and appreciation of aquatic animals and can lead to a greater desire to protect these animals and their native habitats. This is an important role that the Georgia Aquarium now fulfills by creating positive and direct conservation action. The Pacific Barrier Reef is a great example of how exhibits, people and conservation-action can work together.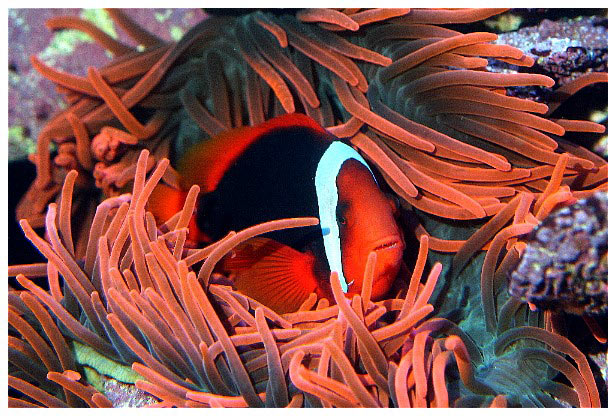 A Pacific Barrier Reef was selected as the theme for the centerpiece exhibit in the Tropical Diver gallery. More than 3,000 species of fishes and over 500 species of corals live on Pacific coral reefs, making this one of the most diverse aquatic regions on the planet. There is an additional benefit provided by a Pacific reef exhibit: many species of corals from the Pacific have been cultivated in home aquariums and public aquariums for over 20 years. This has allowed us to obtain propagated corals rather than wild-caught corals to stock the new exhibit.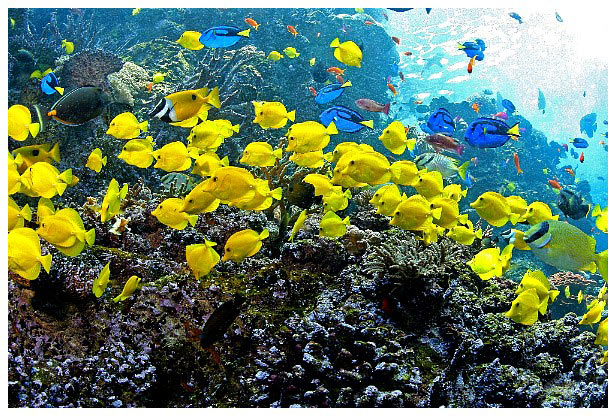 Even though the methods and technology have been perfected for more than two decades, few public aquariums have attempted to maintain a live reef of more than a few hundred gallons. The few aquariums that do have large living reef exhibits are located close to the ocean and natural seawater; not so in downtown Atlanta. The Georgia Aquarium living reef was designed to be completely self-contained, and the public will need to be patient as the coral reef matures over approximately five years. While a private aquarist can see a few inches of coral growth as being quite spectacular in a 55-gallon aquarium, it is not even noticeable in an aquarium of this magnitude. As fellow reefkeepers, you can appreciate that patience is a virtue when observing this work in progress.
Bruce Carlson has lived and worked on coral reefs in the Pacific since 1971 and played the major role in developing the concept and design of the Pacific barrier reef exhibit. He also sought critical advice from Mitch Carl, Anthony Calfo, Charles Delbeek, Bart Shepherd, Julian Sprung and Joe Yaiulo. Bruce and the Georgia Aquarium's design team decided to simulate a reef drop-off similar to those found in the Solomon Islands in the south Pacific. The vertical reef wall allows the viewing window to be situated close to the corals so visitors can see and appreciate their intricate beauty. But a vertical window so close to the reef restricts the amount of room available for the fishes to swim. To create more horizontal swimming room for the fishes, the viewing window was designed to curve up and over the heads of visitors. This gives the fishes approximately 850 ft2 (79 m2) of swimming room at the surface. Having water overhead also allows a wave to crash overhead, and recreate the experience of diving beneath the surf.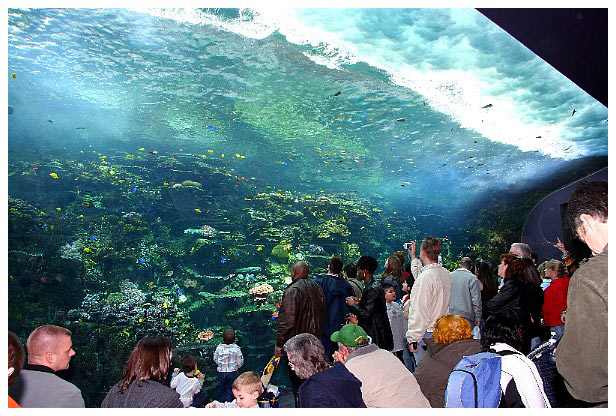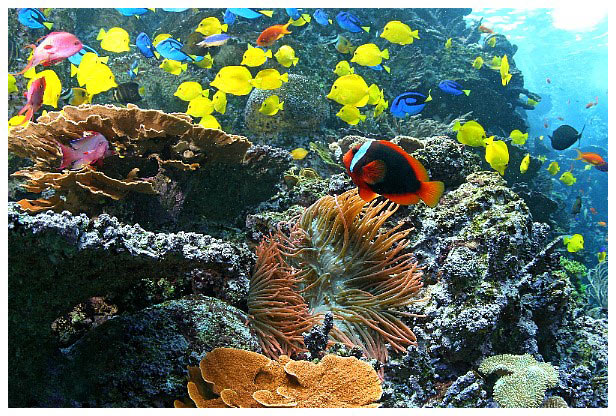 At the surface, the Pacific Barrier Reef exhibit is 49' long x 47' wide, and it is 18' deep (14.9 x 14.3 x 5.5 m). The entire system holds 163,765 gallons (619,920 liters). The public sees only a small portion of the exhibit from below the surface; there is much more to see above-water as will be described later. The reef itself is made of fiberglass panels and is hollow underneath, which provides space to hide all the plumbing. At various locations along the reef, platforms were created to hold live rock. The Georgia Aquarium purchased 11,023 lbs. (5 metric tons) of Walt Smith cultured live rocks from Fiji to use in the Pacific Barrier Reef exhibit. These live rocks provide the foundation for most of the living corals and also helped to seed the exhibit with a wide diversity of micro-fauna and flora, including coralline algae.
Above water there is a complete cross-section of a reef from the wave zone, to the reef crest, to the lagoon, and finally, a living mangrove swamp. This upper level view of the lagoon and mangrove swamp is only available to school groups and to behind-the-scenes tours on the Education Loop, but it offers the opportunity to convey to the public how an entire reef ecosystem functions in nature.
Our normal maintenance schedule is similar to that of a home aquarist, but on a much larger scale. This includes backwashing the sand filters once a week, but the volume of water change is 2800 gallons! The water that is recovered from the backwashing is transferred to a general recovery reservoir which is then cleaned and disinfected to be used in other exhibits. We top-off with reverse osmosis water and/or RO saltwater as needed, but our average evaporation rate per day is 300-500 gallons (more in the winter!). We have a designated RO saltwater reservoir that is used to replenish water in all the invertebrate systems in the building. It has a maximum volume of 8,000 gallons, and Instant Ocean™ salt is used to make the saltwater. To give you a sense of the scale, see the accompanying photograph below of the bags of salt used when we filled the 6.3 million gallon "Ocean Voyager" exhibit for whale sharks.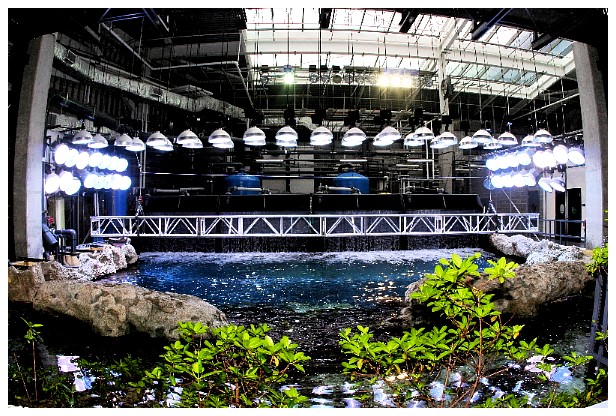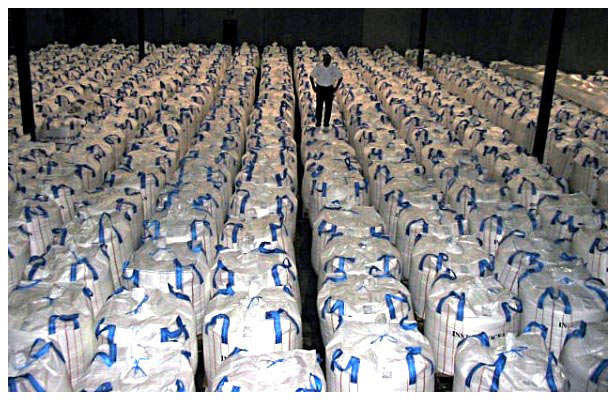 Weekly additions of iodine and 10% strontium chloride are added to system, and daily dive maintenance is scheduled in the morning before the aquarium opens to do the following:
Wipe down the viewing window
Check on all fish and invertebrates in the system
Stir the gravel
Dust corals as needed
Target feed corals ("Phyto feast™" from Reef Nutrition, frozen adult brine shrimp, frozen Cyclop-Eeze®, live Artemia)
Feed four stations of greens for the fish (romaine, bokchoy and broccoli)
Water quality is assessed by various means, including:
Daily testing of temperature, salinity, ORP, dissolved oxygen, pH, alkalinity, phosphates and calcium
Weekly testing for ammonia, nitrite, nitrate, turbidity, iodide, and strontium
We use an ion chromatograph (reagent free) to test for nitrates, calcium and strontium
The Hach 2100P is used to test for ammonia, nitrites, turbidity and phosphates
A "Seven Easy" Mettler Toledo is used to test pH and salinity
Our lighting needs are extreme, and one of the first tasks undertaken was to determine the proper placement of the gallery. Creating this complex environment required more elaborate life support systems than any other exhibit at the Georgia Aquarium. The reef environment is enhanced by a 55' x 65' (16.8 x 19.8 m) skylight fitted with clear Starphire™ glass that allows up to 40% of the sun's ultraviolet light to pass through to the exhibit.
During the summer months in Atlanta, ample sunlight enters the exhibit through the skylight to simulate natural conditions found on coral reefs. But during the winter months, additional artificial lighting is required. To meet this need, Lithonia Lighting provided sixty metal halide lamps over the exhibit, and collectively they provide 60,000 watts of artificial light for the corals. We use a combination of 6500K (Sunmaster) and 14000K (Hamilton) bulbs. Fifteen lights are located on each side of the tank and thirty are located across the top.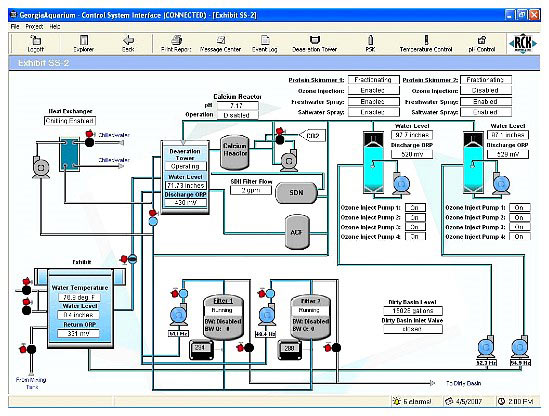 Our filtration is a bit more complex than the average aquarist is accustomed to. We use two RK-2 foam fractionators, each 3.0m in diameter and 2.4m tall at a flow rate of 302.8 x 103 lph through each device and a de-aeration tower filled with Brentwood media for gas exchange. A sidestream from the de-aeration tower feeds two sand filters and a calcium reactor. The reactor contains 4100 lbs. of CaribSea Geo-Marine media and has a flow rate of one-gallon-per-minute. The current pH is set at 6.3 in the main chamber. To maintain this pH we found it necessary to convert from the standard carbon dioxide cylinder to liquid carbon dioxide. Before the water from the reactor re-enters the main system at the overflow, it runs through a phosphate reactor. The calcium reactor is able to produce a calcium level of 600 to 650 ppm and the alkalinity is maintained at 600 ppm. This, in turn, has allowed us to raise the main exhibit's calcium levels to approximately 450 to 500 ppm and an alkalinity reading of 350 ppm. The turnover rate of the entire exhibit (163,765 gallons) is 82 minutes.
We quarantine all animals throughout the entire facility for a minimum of 30 days. The quarantine for all corals and invertebrates takes place in the Aquaculture Room located in a separate room adjacent to the reef exhibit.
During the start up of the habitat we did have an out break of Cryptocaryon irritans, but since then we have not had a major outbreak. The mortality rate is very low in this system. We have biological help maintaining the health of the fish from various cleaner shrimp and cleaner wrasses (Lysmata amboinensis and Labroides phthirophagus).
There is a broadcast feeding of 4.5 pounds, twice a day, that consists of small and large krill, frozen mysids, baby clam, cut fish, shrimp, cut squid, adult brine shrimp, Cyclop-Eeze®, bloodworms and rotifers. We target-feed the corals as mentioned in the dive section and we also target-feed the sharks. Like all reefkeepers we do battle with enemies such as Valonia and Aiptasia, it is just on a larger scale!
To simulate the back-and-forth surge action that occurs in nature, we installed pumps on either side of the exhibit to generate an alternating surge of water that first flows from left-to-right, and a minute later flows from right-to-left. In addition, a 6,000-gallon (22,700 liters) wave machine crashes overhead every two minutes and provides additional water motion across the top of the exhibit.
Inhabitants

---
Whenever possible, the Georgia Aquarium has obtained animals that have been aquacultured rather than collected from the wild. Many of the corals exhibited at the Georgia Aquarium were obtained from other public aquariums and other sources that have coral culture facilities. Corals were also obtained as confiscations when importers tried to bring corals into the United States without the proper permits and paperwork.
Corals:

| | | | | | | | | |
| --- | --- | --- | --- | --- | --- | --- | --- | --- |
| Genus | Species | | Genus | Species | | Genus | Species | |
| Acropora | accuminata | | Cladiella | sp. | | Platygyra | lamellina | |
| Acropora | efflorescens | | Klyxum | sp. 2 | | Herpolita | sp. | |
| Acropora | austera | | Sarcophyton | alcyonidae | | Fungia | sp. | |
| Acropora | elsyi | | Sarcophyton | cf trocheliophorum | | Rumphella | sp. | |
| Acropora | micropthalma | | Sarcophyton | sp. | | Heliopora | coerulea | |
| Acropora | millepora | | Sinularia | sp. | | Merulina | sp. | |
| Acropora | formosa | | Sinularia | polydactyla | | Hydnophora | rigida | |
| Acropora | nana | | Briarium | sp. 1 | | Hydnophora | sp. | |
| Acropora | nobilis | | Euphyllia | glabrescens | | Hydnophora | exesa | |
| Acropora | pulchra | | Euphyllia | ancora | | Hydnophora | rigida | |
| Acropora | robusta | | Euphyllia | parancora | | Hydnophora | sp. | |
| Acropora | sp. | | Euphyllia | divisa | | Symphyllia | sp. | |
| Acropora | tenuis | | Euphyllia | paradivisa | | Cynarina | lacrymalis | |
| Acropora | valencienna | | Clavularia | sp. | | Lobophyllia | hemprichii | |
| Acropora | yongei | | Turbinaria | reniformis | | Lobophytum | sp. | |
| Montipora | aequituberculata | | Turbinaria | peltata | | Galaxea | fascicularis | |
| Montipora | capricornis | | Rhodactis | sp. | | Pocillopora | damicornis | |
| Montipora | confusa/spumosa | | Caulastrea | furcata | | Seriatopora | hystrix | |
| Montipora | digitata | | Caulastrea | echinulata | | Stylophora | pistillata | |
| Pavona | cactus | | Favia | sp. | | Porites | sp. | |
| Pachyseris | sp. | | Platygyra | lamellina | | Trachyphillia | geoffroyi | |
| Pachyseris | speciosa | | Herpolita | sp. | | Xenia | sp. | |
| Erythropodium | caribaeorum | | Fungia | sp. | | Zooanthus | pulchellua | |
| | | | | | | | Total: | |
Some corals have a long pedigree. The whip gorgonian (Rumphella sp. - shown below) was collected in the Republic of Palau in 1988 by Bruce Carlson and cultured at the Waikiki Aquarium in Honolulu. Several fragments from that colony (along with other corals) were sent to the Georgia Aquarium in 2004 and the new daughter colony is now thriving in downtown Atlanta almost twenty years from the date that it was originally collected.
Fishes:
| | | | | | | | | |
| --- | --- | --- | --- | --- | --- | --- | --- | --- |
| Genus | Species | | Genus | Species | | Genus | Species | |
| Acanthurus | achilles | | Cirrhilabrus | scottorum | | Pomacentrus | moluccensis | |
| Acanthurus | dussumieri | | Coris | gaimard | | Pseudanthias | bimaculatus | |
| Acanthurus | nigricans | | Cryptocentrus | leptocephalus | | Pseudanthias | hutchii | |
| Acanthurus | olivaceus | | Cryptocentrus | pavoninoides | | Pseudanthias | hypselosoma | |
| Acanthurus | pyroferus | | Ctenochaetus | striatus | | Pseudanthias | pictilis | |
| Acanthurus | triostegus | | Ctenochaetus | strigosus | | Pseudanthias | pleurotaenia | |
| Amphiprion | sp. | | Cyprinocirrhites | polyactis | | Pseudanthias | squaminpinnis | |
| Apogon | amboinensis | | Dascyllus | auripinnis | | Pseudocheilinus | hexataenia | |
| Apogon | cyanosoma | | Dascyllus | melanurus | | Pseudochromis | fuscus | |
| Apogon | cyanosoma | | Ecsenius | midas | | Ptereleotris | zebra | |
| Apogon | maculates | | Genicanthus | lamarck | | Rhinecanthus | rectangulus | 1 |
| Apogon | menesemus | | Genicanthus | melanospilos | | Salarias | fasciatus | |
| Apogon | sp. | | Gomphosus | varius | | Scolopsis | bilineata | |
| Bodianus | anthioides | | Hemitaurichthys | poylepis | | Siganus | doliatus | |
| Bodianus | axillaris | | Labroides | phthirophagus | | Siganus | doliatus | |
| Caesio | teres | | Meiacanthus | ovalauensis | | Siganus | puellus | |
| Canthigaster | valentini | | Naso | lituratus | | Siganus | vulpinus | |
| Carcharhinus | melanopterus | | Naso | unicornis | | Sphaeramia | nematoptera | |
| Centropyge | bicolor | | Naso | vlamingi | | Synchiropus | ocellatus | |
| Centropyge | bispinosa | | Nemateleotris | magnifica | | Thalassoma | duperrey | |
| Centropyge | flavissimus | | Odonus | niger | | Thalassoma | lunare | |
| Centropyge | loricula | | Oxycirrhites | typus | | Valenciennea | strigata | |
| Chaetodon | lunula | | Paracanthurus | hepatus | | Valenciennea | strigata | |
| Chiloscyllium | punctatum | | Paracheilinus | carpenteri | | Zanclus | canescens | |
| Chiloscyllium | plagiosum | | Paracirrhites | arcatus | | Zebrasoma | flavescens | |
| Chromis | viridis | | Paracirrhites | forsteri | | Zebrasoma | scopas | |
| Chrysiptera | cyanea | | Paraluteres | prionurus | | Zebrasoma | veliferum | 40 |
| Cirrhilabrus | cyanopleura | | Platax | teira | | | | |
| Cirrhilabrus | exquisitus | | Plectorhinchus | chaetodonoides | | | | |
| Cirrhilabrus | rubriventralis | | Plectorhinchus | lineatus | | | | |
| | | | | | | | Total: | |
Mission

---
The mission of the Georgia Aquarium concludes with this statement:
"…(to) promot(e) the conservation of aquatic biodiversity throughout the world."
The Georgia Aquarium has formulated plans for conservation efforts on many levels, from the day-to-day activities of employees who recycle or reduce consumption, to field conservation projects in Georgia, to international efforts to help protect and preserve aquatic animals and habitats. The Georgia Aquarium Training Program includes a two-hour mandatory session for all staff to help every employee learn how their individual conservation activities can make a difference on a global scale. The staff has also organized themselves into working groups to come up with more ideas and projects to pursue, such as stream clean-ups, special events to help the public learn more about conservation and recommendations to help protect animals and habitats.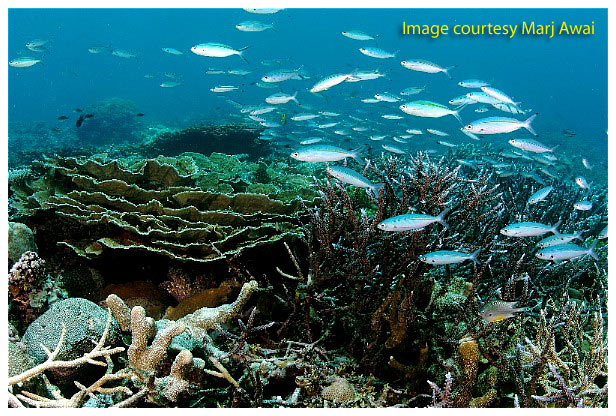 One of the first international conservation projects to receive aid from the Georgia Aquarium is a small group of islands and coral reefs in the South Pacific. In 1995, three villages in the northwest Solomon Islands teamed up with The Nature Conservatory (TNC) to create the Arnavon Community Marine Conservation Area (ACMCA). The two islands and coral reefs in this protected area had once been thriving reef communities, but years of over-fishing greatly reduced the population of fishes, giant clams and other reef animals. These islands also harbor one of the world's largest populations of endangered hawksbill turtles. With the resources available from TNC, a management plan was established and over the past decade these protected coral reefs have flourished. Several key species of fishes that had been depleted are now making a comeback, including the humphead wrasse (which is displayed in Ocean Voyager), the bumphead parrotfish and giant clams.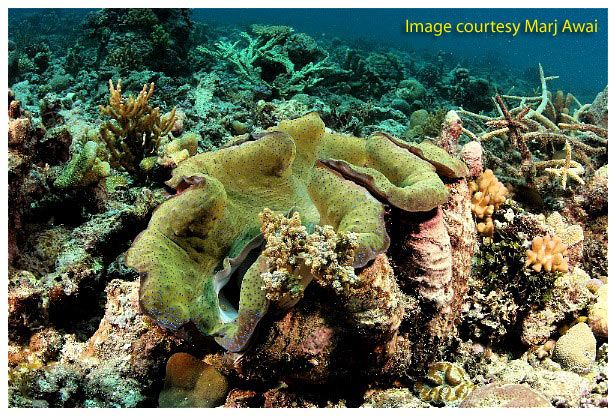 Despite the success story of the recovery of these coral reefs, the villages have been cash-strapped to maintain patrols and monitoring efforts. This is where the Georgia Aquarium stepped forward to help. The Georgia Aquarium's Pacific Barrier Reef exhibit is modeled after reefs in the Solomon Islands so there is a natural affinity between the Aquarium and these islands. Through a partnership with TNC, the Georgia Aquarium has provided funding equal to the annual budget of the ACMCA for three years. Ultimately, the goal is to establish an endowment fund to make this area the world's first sustainably financed community marine protected area. This is the Georgia Aquarium's first major sponsorship for field conservation, and the beginning of what we expect will be a long-lasting relationship with The Nature Conservancy. This is a natural partnership since both organizations have the same mission to help preserve the diversity of life on this planet by protecting the habitats that plants and animals need to survive. This Pacific Barrier Reef exhibit is an attempt to showcase this environment and give the public a chance to see the beauty of this region.
See you at MACNA XX!
Several of the images above are copyrighted property of Marj Awai. Use of these images for any reason must have prior written permission from Marj Awai: mawai@earthlink.net.
---