The Great Cirolanid Hunt

---
It is a dark, dark night. The only sound is a faint trickle of water. It almost seems like the peaceful sound of a forest's babbling brook. But this night is anything but peaceful, as tonight a deadly hunter is stalking his prey. The promise of death hangs thickly in the clammy night air. The hunter is close; he can nearly taste his prey in the salty air, the hunter freezes mid-stride to avoid making any sudden movements or vibrations that will cause his prey to flee. A dim red light illuminates the prey and the hunter lashes out fiercely. In a flurry of movement, frothing water and flying sand, the net captures the prey and seals its fate.
Is this an episode of the Crocodile Hunter™? No, this is the far less popular, less entertaining, and not so wealthy, Cirolanid Hunter. My name is Brian Plankis, and I have a Cirolanid isopod problem. Admitting my problem was the first step on my long journey toward solving it.
So what is a Cirolanid isopod? Cirolanid isopods are in the Order Isopoda, but I am not a biologist and will leave it to the biologists to go into more detail than the Order. What you need to know is that Cirolanid isopods are members of a crustacean group that contains over 680 species. Some Cirolanid species are obligate parasites, other species are strictly scavengers, and some are a combination of both. The vast majority of Cirolanids seen in the aquarium hobby seem to be obligate parasites of fish and will starve to death in your tank in two to six months if no fish are present.
Figure 1. Cirolanid isopods captured from my reef tank.
For more background information on Cirolanid isopods, check out Pills, Parasites, and Predators; Isopods in the Reef Aquarium by Dr. Ron Shimek. If you think you have Cirolanid isopods, be sure to check out the pictures of the Sphaeromatid isopods in this article. They are commonly mistaken for Cirolanid isopods when people first discover them in their aquariums, but Sphaeromatids are beneficial scavengers that should remain in your tank. You can quickly check to see if your isopods are Sphaeromatids by isolating one of them and seeing if it can roll up into a ball. Sphaeromatids can do this while most other isopods, including Cirolanids, cannot. More information on Cirolanid isopods can be found at the following links:
http://tolweb.org/tree/eukaryotes/animals/arthropoda/crustacea/isopoda/.html,
http://www.wetwebmedia.com/isopodfaqs.htm,
http://www.wetwebmedia.com/isopoda.htm
I seem to be lucky and received my Cirolanids with some aquacultured live rock on January 28th, 2005. I was extremely lucky that they were the scavenger variety of Cirolanids. Unfortunately, after discovering this, the lottery ticket I purchased turned out to be a loser. While not common in aquariums, the past 100 days have included many reports of Cirolanids in The Invertebrate Forum on Reef Central:
http://www.reefcentral.com/forums/showthread.php?s=&threadid=690560
http://www.reefcentral.com/forums/showthread.php?s=&threadid=667710
http://www.reefcentral.com/forums/showthread.php?s=&threadid=675942
http://www.reefcentral.com/forums/showthread.php?s=&threadid=669843
http://www.reefcentral.com/forums/showthread.php?s=&threadid=656178
I've received many questions about how I deal with them. Cirolanids appear to hitchhike on fish, live rock, sand or macroalgae. Recent reports on Reef Central seem to indicate that it is most common to receive them from shallow water rock that spends only a few days out of water, or from rock taken from established tanks. But, realistically, Cirolanids are very hardy creatures and could come from almost any source of live rock or animals.
What follows is my saga, story or venting, depending on what you want to call it. As soon as I realized these critters were not going to go away quickly, I started recording each of their captures. This quickly expanded into testing what they would eat. I then focused my efforts on testing various methods of killing or capturing them. This article is the culmination of these efforts.
Cirolanid Isopod Capture Techniques

---
I made the decision to separate the Cirolanids I was capturing into three size classes: large, medium and small. Cirolanids less than 4mm long were considered small, 4-8mm medium and >8 mm large. This system helped me to track their growth and reproduction in the tank. Figure 2 shows some Cirolanids from each of these categories that I captured.
Figure 2. Various isopod sizes (scale in mm and cm).
Unless you are in the habit of watching your tank when it is dark, you'll never see Cirolanids even if you have them. They are nocturnal predators/parasites/scavengers that scurry away the moment they notice bright light. I've found the best time to look for them is 1-2 hours after lights out and again 1-2 hours before sunlight or the lights illuminate your tank. Ideally you should look all night long, but who has time for that? Personally, I like to be asleep at 3AM.
Cirolanid hunting is an exercise in patience. I recommend that you open your canopy just after lights out and carefully approach the tank to avoid making vibrations. I have seen Cirolanids swim away from the vibrations caused by opening the canopy or from my footsteps. If I wasn't so tired of hunting them, I would laugh at the amusing image of me, a 260 lb., 6'5" guy, tiptoeing carefully to my tank to avoid scaring a 1/3" long isopod.
The best way to find Cirolanids is to use a flashlight with a red lens. These items can usually be found at your local Wal-mart or sporting goods store. The light from a red flashlight beam is less startling than a white beam to Cirolanids and gives you an opportunity to capture them. I've found that a flashlight covered with a red cloth has the same effect. If you can't find either of these, then a flashlight with a very wide beam or really weak batteries will do in a pinch. When using a flashlight to find them, move the beam slowly; rapid changes in light intensity will scare these skittish creatures away.
Cirolanids may be found anywhere in your tank. The first places to look should be your aquarium walls, fish, live rock or substrate. Since my system has no fish, I have found almost all of my Cirolanids on the sand bed in an area of low flow, or on the glass just 3-4" above the sand bed. I've frequently found them on algae-coated glass, presumably because it is easier for them to cling to than is clean glass. My tank's left front corner receives low flow so algae covers its glass, and that has been my most productive hunting spot.
So what do you do once you've seen a Cirolanid in your tank? How do you remove it? There are basically three ways to eliminate Cirolanids from your tank: chemical controls, natural predators and manual removal. Chemical controls will be discussed later in this article. Unfortunately, no known natural predators of Cirolanid isopods are readily available in the aquarium trade. Some aquarists have reported potential predatory success with cleaner shrimp, six-line wrasses or triggers. However, these are only anecdotal reports supported by no scientific research or even direct observations of ingestion.
Adding fish seems counterproductive to me, as they are a food source for at least some Cirolanids and fish hunt by sight, which is of limited use in the dark, when the isopods are most active. Reports (CastleRock, 2002; Schmitt, 1965) of Cirolanids attaching to or burrowing into and out of their food source, including "predators" that have "eaten" them, are prevalent enough to convince me that anything that doesn't kill their prey by chewing or tearing it apart will not help with their removal. So, this leaves manual removal. Figure 2 below is a picture of a variety of hunting tools that I used in the quest to rid my tank of Cirolanids.
Figure 3. Isopod hunting tools. See legend below.
Tool Descriptions
1. Holding Container - used to hold the captured Cirolanids.
2. Mesh Jar Trap - Effectiveness < 20% NOT RECOMMENDED - A jar converted into a baited trap by placing one piece of shrimp into the jar and rubber banding a mesh over the top. Cirolanids can escape the jar; the mesh is designed only to slow them down while removing the trap. I have used this jar a few times and it will lure Cirolanids out within 15 minutes. If they escape, however, you've just given them a free meal!
3. Turkey Baster - Effectiveness >90% on small, 50% on medium, useless on large - Small Cirolanids are weaker swimmers than large isopods, making this an effective hunting tool. Squeeze the bulb of the baster and hold it. This expels the air and allows suction to capture the small isopods. In my experience, a Cirolanid's initial movement is usually forward, not sideways or backwards. Approach the Cirolanid from its anterior (head) end and when you are about ¾" away, slowly release the bulb and move the tip on top of the Cirolanid. QUICKLY remove the baster from the water and squirt it into the holding container. The water may need to be flushed in and out of the baster several times before the Cirolanid will be expelled.
4. Baited Pipe Trap - Effectiveness < 10% - This is a PVC pipe with a piece of shrimp stuck between two tightly packed pieces of mesh that stop the Cirolanids from reaching the food. The mesh allows water to flow through so the Cirolanids can smell the shrimp in the water. It's not very effective, as I've used it multiple times with only one capture.
5. Aquarium Net - Effectiveness 50% with large and medium, useless on small - When you spot an adult, slowly move the net to within about 4" of your prey. Make sure most of the net is in front of the Cirolanid as it will first swim forward when startled. Lunge the net the last 4" and try to press the Cirolanid between the glass and the net; then, QUICKLY remove the net from the water. If you go up slowly the Cirolanid will be able to swim out of the net. If the Cirolanid is on the sand bed, I've found that scooping up some sand as you lunge will be more effective as the Cirolanid will then have to try to swim through the sand first before it can escape.
I have used other methods that are not pictured or described above, including a ½" diameter siphon hose, filter socks and freshwater dipping my Chaetomorpha algae once a month to see if any were hiding in it. These other methods have led to the capture of four large, one medium and 35 small Cirolanids.
The Ultimate Capture Technique

---
Since I feed my tank only phytoplankton and do not have fish, there are no food sources to lure my Cirolanids out of hiding. After watching one escape the mesh jar trap in Figure 2 and reading about Cirolanids escaping baited traps after their bait is depleted (Carvalho & Fowler, 1985), I decided to build a better mousetrap. Wong and Moore (1996) propose that brooding females may abstain from feeding, so I think it is critical to capture the isopods after they feed to avoid long periods when the females would not be attracted to traps. This led me to design the trap pictured below, which is a modified inverted bottle trap of the design that is commonly used to capture crabs and mantis shrimp in reef aquaria.
All it takes to build this trap is a glass jar, the top from a plastic water bottle that fits the jar's opening, a pair of scissors and a strong rubber band. I chose a jar over an inverted bottle trap because the glass would not deform and allow small isopods to escape through the gaps. Here are some construction steps:
Step 1: Cut off the plastic bottle top, drill one small hole in the lid and cut two notches to hold the rubber band securely without flexing the bottle top.
Figure 4. Modified bottle top.
Step 2: Clean and thoroughly rinse the glass jar to avoid placing any contaminants into the tank.
Figure 5. Glass jar, rubber band and bottle top.
Step 3: Place the bait into the jar, secure the bottle top with the rubber band and place it into the tank.
Figure 6. The assembled trap.
Since some Cirolanids appear to hunt by scent (Wong & Moore, 1996), I have found this trap to be very effective. They find their way in, and I have observed several trying to escape the trap with no success. In the first two days of using this trap, I captured several large Cirolanids that I had not seen in over twelve weeks of nightly observations. My ultimate hunting technique is detailed below.
The Stinky Water Method:

---
1. Soak a piece of bait shrimp in a cup of saltwater from your tank for several hours or overnight at room temperature. The water in the cup will get cloudy and stinky!
2. Remove the shrimp and bait the trap with it. Place the trap on the sand bed after lights out, allowing the scent to drift throughout the tank.
3. Take the cloudy, stinky water and filter it through a coffee filter. This should remove most large food particles that would otherwise feed the Cirolanids.
4. Pour a small amount of the stinky water into the front of the aquarium near the glass, preferably where the current will send it to the bottom near the trap.
5. Start trapping Cirolanids! I've seen Cirolanids attach to the front glass in as little as 10 seconds after adding the stinky water. This was only two minutes after lights out, so this scent is obviously a very strong attractant. Before I started using baited traps Cirolanids typically did not appear until at least 45 minutes after lights out. Some will quickly find their way into the trap, but I'm usually ready with my turkey baster to capture the smaller ones. I've found that even if I fail at the first capture attempt, if I add a little more stinky water, they are back on the glass within 30 seconds.
6. Remove the trap from the tank before going to sleep. I would guess that if Cirolanids had several hours, they might eventually find the hole and escape from the trap.
A Population Explosion!

---
So how many have I captured? To date I have hauled in 386 isopods. To get an idea of the relative percentages of the sizes I've been capturing, see Graph 1. After my tank cycled I had several LPS hitchhiking corals that would benefit from an occasional feeding. Even though I knew I had Cirolanids, I had heard they were mostly obligate parasites, so I started feeding my tank meaty foods for my corals.
Graph 1. Size distribution of captured isopods.
As Graph 2 below shows, the small isopods started appearing in April. It is interesting to note that I started feeding meaty foods to the tank on 03/06. After capturing 36 small isopods in three days, I quit feeding meaty foods to the tank on 04/07. By 4/20 I was capturing less than 10 small isopods per day. On 7/22 I added my second shipment of live rock to the tank and another spike of small isopods appeared. There was some die-off from that second live rock shipment and my speculation is that the isopods were able to use that to reproduce, or else I introduced new isopods into the tank from the second shipment. From 09/03 to 10/19 I saw only one small isopod in my tank, so I decided to try baited traps to determine if any isopods remained. I captured one large isopod, but unfortunately another one escaped after feeding on the bait. By 10/25 I was seeing small isopods again, so I quit using the mesh jar trap. I started using the ultimate trap and stinky water method on 11/10, and its effectiveness has resulted in a small spike in the number of captured Cirolanids.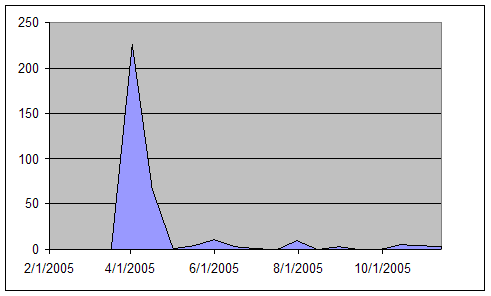 Graph 2. Number of small isopods captured at 15 day intervals.
Scavenging Cirolanid Isopod Feeding Observations

---
With so many specimens available, I decided to test what the Cirolanids would eat. Table 1 is a listing of the foods tested and how the Cirolanids reacted to each of them.
| | | | | | |
| --- | --- | --- | --- | --- | --- |
| Food Tested | Dead Food | Live Food | Consumed | Ignored | # of Replicates - Notes |
| Porcelain crab | X | | X | | 2 |
| Sargassum shrimp | X | | X | | 1 |
| Porcelain crab molt | X | | X | | 2 |
| Scarlet reef hermit crab molt | X | | X | | 2 |
| Blue legged hermit crab molt | X | | | X | 2 |
| Amphipod | X | | X | | 3 |
| Frozen Mysis | X | | X | | 2 |
| Grocery store shrimp, uncooked | X | | X | | 3 |
| Omega One dry flake food | X | | X | | 10 – Very strong feeding response all times. |
| Xanthid crab | X | | | X | 1 - Decomposition from crab killed the isopods. |
| Xanthid crab #2 | X | | X | | 1- Isopods burrowed completely through the crab. |
| Xanthid crab #3 | X | | | X | 1- Removed crab to prevent isopod death from crab decomposition. |
| Amphipod | | X | | X | 3 - One large amphipod picked up a small Cirolanid and appeared to be attempting to eat it, but it dropped it. |
| Xanthid crab | | X | | X | 1- Crab made no attempts to eat the isopods. |
| Astraea snail | | X | | X | 2 |
Table 1: Cirolanid feeding observations.
While I did not do a gut analysis to determine if the Cirolanids were actually eating the food, I assumed that the violent motion of the food as the Cirolanid burrowed through and their darker color after emerging indicated feeding. These crustaceans' ability to burrow through a crab's body in a matter of seconds is quite frightening. Even though a Cirolanid has never attached to my skin, I try to wear gloves as often as possible to avoid that rather unpleasant thought. It is interesting to note that the Cirolanids ignored all live foods offered, but the same foods, when dead, elicited a feeding response.
When the Cirolanids ate the offered foods, they fed very rapidly and aggressively. Unless they were disturbed, they preferred to stay near the food source. Figure 7 shows a large Cirolanid that has recently fed and stored food in what I believe is its mid-gut cecae (McLaughlin, 1980), and two small Cirolanids that have not fed recently. Figures 8 and 9 show Cirolanids that have recently fed on flake food.
Figure 7: Orange mid-gut cecae full of food in the large Cirolanid; no food is apparent in the small Cirolanids.
Figure 8: Small isopods full of flake food.
Figure 9: Isopod feeding on flake food.
This food testing resulted in the removal of my entire hermit and porcelain crab population so their molts would not become food for the Cirolanids. I still have some hitchhiking xanthid crabs that I try to remove at every opportunity. If you are unlucky enough to have a scavenging Cirolanid isopod reproducing in your tank, I would recommend removing as many crabs and shrimp as possible to prevent their molts from feeding the Cirolanids.
Mortality Testing

---
While I have to admire the tenacity of the Cirolanids in my tank, it is a FISH tank and I desire to put some FISH in there some day! I performed a search of scientific literature and information available on the Internet of ways to kill Cirolanids without killing anything else in the tank but found no useful information.
The only thing I found was that some people were trying a chemical by the brand name of Interceptor with the active ingredient Milbemycin Oxime. It is a medicine used for killing heartworms in dogs, and is sometimes used to eliminate red bug infestations on SPS corals at a recommended concentration of 0.0025g/gal of tank water for six hours. Red bugs are a type of crustacean, so it seemed logical that since Cirolanids are also crustaceans, the medicine might have a similar effect on them. A good discussion on red bugs and their treatment can be found here.
I also found threads in various reef forums stating that freshwater dips would kill Cirolanids. This led me to test a variety of methods to determine what would kill "my" Cirolanids and, if so, how long it would take. My results are detailed in tables 2 and 3 below. It should be noted that these are not scientific tests, even though I tried to make them as rigorous as possible. Most of the tests were done on individual specimens and there are too many observations where N=1 to call these experiments, so these are best termed "testing observations." In some tests amphipods were also exposed to the treatment as a representative of the "good" crustacean population found in our reef tanks.
Test #

Interceptor Concentration1

Specimens Tested4

Time Of Death

Notes

1

0.006g/gal3

1 – Cirolanid(L)
1 – Cirolanid(S)
1 – Amphipod(S)

L: 2100
S: 391

Amphipod dead at 55 mins. Small Cirolanid swimming erratically at 323 mins.

2

0.03g/gal2

1 – Cirolanid(L)
3 – Amphipods(L)

168 hours

3 amphipods dead after 24 hours. Cirolanid ate portions of all three dead amphipods

3

0.05g/gal2

1 – Cirolanid(L)
3 – Amphipods(L)

660

2 amphipods dead at 11 hours, other at 18 hours.

4

0.081g/gal3

1 – Cirolanid(L)
2 – Cirolanid(S)
1 – Amphipod(L)

L: 323
S: 180

Amphipod dead at 78 mins.

5

0.395g/gal3

1 –Cirolanid(M)

160

6

0.405g/gal3

1 – Cirolanid(S)
1 – Amphipod (L)

100

Amphipod dead at 130 mins.

7

0.409g/gal3

1 – Cirolanid(S)
1 – Amphipod(L)

100

Amphipod dead at 130 mins.

8

0.415g/gal3

1 –Cirolanid(M)

160

9

0.000g/gal
(Test#1 Control6)

1 – Cirolanid(L)
1 – Amphipod(S)

N/A

Alive and swimming normally at end of Test #9.

10

0.000g/gal
Test#4 Control6)

1 – Cirolanid(L)
1 – Amphipod(S)

N/A

Alive and swimming normally at end of Test #10.

11

0.000g/gal
(Test #6 Control6)

1 – Cirolanid(S)
1 – Amphipod

N/A

Alive and swimming normally after 3 days.

12

0.000g/gal
(Test #7 Control6)

1 –Cirolanid(S)
1 – Amphipod

N/A

Alive and swimming normally after 3 days.
Table 2: Interceptor treatment results.
1. All tests were run in non-aerated plastic cups with aged tank water. Concentration is expressed in grams of Interceptor pill per gallon of water. Actual Milbemycin Oxime concentration is considerably less. (Parameters - salinity: 1.024-1.026, temperature: 75 - 79°F and pH 8.0-8.1 unless otherwise noted).
2. Concentrations were measured using a scale with a resolution of ± 0.01 grams.
3. Concentrations were measured using a scale with a resolution of ± 0.001 grams.
4. Cirolanid and amphipod sizes are indicated by S for small, M for medium, and L for large.
5. Time of death is noted in minutes, unless otherwise indicated.
6. A Control test was conducted by using the same source water used in the corresponding Interceptor test (Before the Interceptor was added). This was done to detect if another factor contributed to the deaths of the Cirolanids.
So, what can we determine from these Interceptor tests? First, it appears that at concentrations up to twenty times the concentration recommended for eliminating red bugs (0.006g/gal - 0.05g/gal), 100% of the Cirolanid isopods will survive for at least six hours. The treatment could be modified to last for 24 hours, but this duration caused 100% mortality in amphipods. This is an indication that a significant portion of the helpful crustacean population would die while the Cirolanids would live in a tank treated with Interceptor at up to twenty times the standard red bug treatment level.
Second, at much higher concentrations Interceptor appears effective at killing Cirolanids and amphipods relatively quickly. In my limited tests, Cirolanids experienced 100% mortality in six hours or less when the concentration was 0.081g/gal or higher. While it could be possible to kill Cirolanids in a reef tank at these high concentrations, it would also stand to reason that you would destroy the good crustacean population in your reef tank. Given that my reef tank easily has 2000+ amphipods and countless smaller crustaceans, I can only imagine the cycle caused by the death of a large percentage of them.
Third, it seems that smaller Cirolanids are more sensitive to Interceptor than the larger ones. However, the intricacies of a complex biological system involving bacteria, live rock, algae, corals and mechanical filtration in a reef tank simply do not allow these results to predict success in a reef tank. Given these results I would strongly recommend against using Interceptor as a treatment to kill Cirolanid isopod infestations in a reef tank. Especially since the stinky water method seems to be a reliable way of removing them.
As detailed in Table 3, I ran another series of observations without Interceptor. Tests 1-3 tested the mortality of Cirolanids with the commonly available Kent's Lugol solution which is listed at 5% Iodine and 10% Iodide. Lugol solutions are frequently used as an antibiotic in sick coral treatments and also listed as a possible treatment for red bugs. All Cirolanids exposed to Lugol's in the tests died after 12 hours. However, the cups were also not aerated, and I do not know the effects of Lugol's on water parameters or oxygen levels in such a small quantity of water. I only reported this as an interesting observation to possibly experiment on in the future. This treatment should be avoided in reef aquariums, as its effects in the tank were not tested.
I have also read several reports of aquarists asking if a freshwater dip will kill Cirolanids. The answer appears to be yes, but the length of time needed for the dip to be effective is obviously detrimental to other life surviving on the substrate. The first death took 35 minutes for a medium-size isopod and 95 minutes for a large isopod. If you like saving more, you must take a look at ALDI Special Buys! A particularly interesting observation was #5, in which an isopod was exposed to 30 minutes of RO/DI water and appeared dead with no response to prodding with a chopstick. It was then returned to saltwater and appeared to act normally for four days before it was smushed, err… the test was ended.
Test #

Treatment
(Concentration)

Specimens Tested4

Time Of Death

Notes

1

Lugol's1
(32 drops/gal)

1 – Cirolanid(L)

12 hours

Erratic swimming after 4 hours.

2

Lugol's1
(48 drops/gal)

1 – Cirolanid(L)

12 hours

Erratic swimming after 2 hours.

3

Lugol's1
(32 drops/gal)

1 – Cirolanid (S)
1 – Amphipod (S)

350 mins

Amphipod dead at 40 mins.
Cirolanid erratic swimming at 2 hours.

4

RO/DI water2

1 – Cirolanid(L)

100 mins

5

RO/DI water2

1 – Cirolanid(L)

95 mins

6

RO/DI water2 30 mins, then saltwater.

1 – Cirolanid(L)

N/A

Survived after return to saltwater.

7

RO/DI water2

1 – Cirolanid(M)

35 mins

8

Saltwater3

1 – Cirolanid(M)

19 days

9

Saltwater1
(Test#3 Control)

1 – Cirolanid (S)

N/A

Alive and swimming normally at end of Test #3.
Table 3: Other treatment effects on cirolanids.
1. Water parameters - salinity: 1.025, temperature: 78°F
2. RO/DI water parameters - salinity: 0.000, temperature: 77-84°F
3. Water parameters - salinity: 1.024 - 1.026, temperature: 77 - 80°F
4. Cirolanid and amphipod sizes indicated by S for small, M for medium, L for large
Conclusions

---
At the time of writing this article I have gone 25 days without seeing or trapping any Cirolanids in six stinky water capture attempts. I had previously gone as long as three weeks before finding them again. So is this the end of the infestation? I don't know, but I thought I would share my tips and mistakes to help some fellow hobbyists avoid the population explosion I experienced. I hope my observations that chemical controls and freshwater dips are obviously questionable ways to eradicate Cirolanids will avoid the needless death of helpful and desirable tank inhabitants. Most of all, for those of you who have to hunt, I hope the stinky water method will reduce your time spent hunting these buggers!
If Cirolanids rear their ugly, ugly heads again and I can't find a natural predator, I am left with the options of trying a poison and/or discarding all of my live rock and sand. Neither of these options sounds appealing to me, so I will continue using the effective stinky water capture method and update my thread periodically on the hunting experience. Hopefully, I will be able to report their eradication soon.
Acknowledgements:

---
I would like to thank my wife Christine, Marc (melev), Pat (patsan), my Dad and Lisa for giving me suggestions for improving this article. I would also like to thank Ron Shimek for suggesting I write this article.
All photos are copyrighted by Brian Plankis with the exception of the Cirolanid Hunter drawing which was generously created by John (poormedstudent) of Reef Central.
---