Cooking with Algae
You as a reefkeeper know what a pain in the neck problem algae can be to our tanks, right? What if we found a useful purpose for the algae that we prune and normally throw away on a weekly or sometimes daily basis?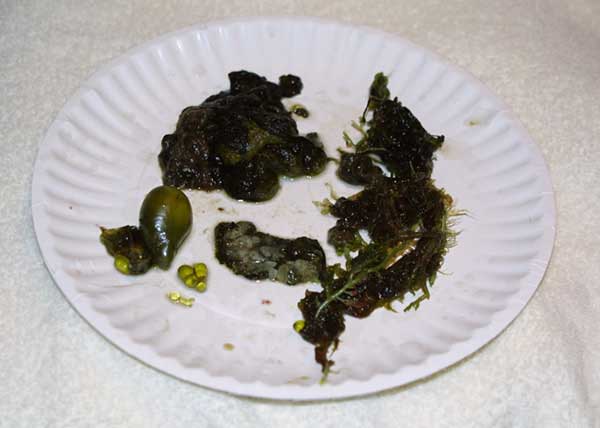 Why throw all this good algae away when you can make a nutritious meal out of it? Looks just like mom used to make, doesn't it?
Being a reefkeeper and having a little knowledge around the kitchen can be just the ticket to a successful reef tank along with a healthy body. In this article, I am going to present some tasty recipes for a common pest that we normally throw in the garbage.
Umm, Umm Good Vegetable Algae Soup
1 cup of grape caulerpa.
48 oz. of water.
6 beef or chicken bouillon cubes.
1 tablespoon of Crystal Sea Marine Mix Salt.
Bring water to a boil. Add the 6 bouillon cubes along with the salt. Then slowly add the cup of grape Caulerpa. Taste often and serve when the caulerpa is nice and soft. Keep the phone number of the local poison control center near your kitchen because you will need it after eating this wonderful soup.

Reefkeepers Power Shake
For those bodybuilders and health nuts in the crowd, we have a special protein shake to perk up those muscles. This is one of my favorites and not only do we get the nutritional value of our algae, we also can use some of that skimmate that we normally pour down the drain.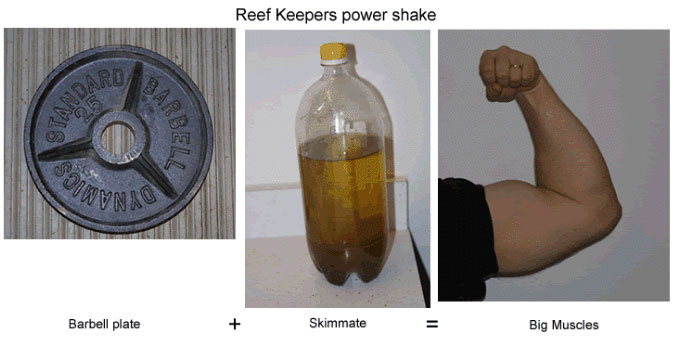 In your blender, mix the following ingredients:
8 oz. skimmate (the thicker the skimmate, the more protein).
1 handful of hair algae.
6-8 ice cubes.
1 clothespin (don't mix, set on the side for later).
Mix the ingredients in the blender until a thick, frothy shake is produced.
Clip the clothespin on your nose.
Drink up and enjoy.
You can also double the amount of ingredients so that you always have some on hand when that extra boost is needed during a hard workout or when moving those heavy buckets of water.
Make sure that you consult your physician whenever engaging in intense physical activity and after drinking this power shake.
Dinner for That Special Someone
Do you need to make dinner for that special someone? We have a special meal that would make Emeril's mouth water.
2 boned and skinned chicken breasts.
2 cups of rice.
1 cup of red slime algae.
2 cups of hair algae.
1 head of iceburg lettuce.
1 small handful of grape Caulerpa.
1 cup of sour cream.
One bottle of skimmate.
Cook the rice for one minute. Fry or grill the chicken breasts until they reach a temperature of 82-84 degrees. Mix the sour cream and slime algae in to a sauce pan and cook until warm. Dry the hair algae with your hair dryer.
Mix the lettuce and dry hair algae (used in place of sprouts). Put rice and chicken on each plate. Pour the red slime and sour cream sauce over the rice and chicken. Garnish the plate with grape caulerpa. Take your best wine glasses and fill them with room temperature skimmate.
After dinner, enjoy the time that you and that special someone will spend in the hospital getting your stomachs pumped.

Be sure to check next month's feature which will include sarcophyton stew and dead sea coral gumbo.
Hopefully, you enjoyed our April fools joke and if any of you are silly enough to eat or drink any of the above recipes both the author and management of Reefkeeping are not responsible for mindless acts of silliness.
---